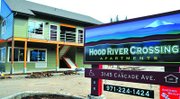 It may only be a veritable drop in the bucket compared to demand, but Hood River County will soon have new affordable housing options.
Hood River Crossing, a 40-unit apartment complex on West Cascade Ave., is scheduled to open in May. Meanwhile, construction is scheduled to start on a 13-unit senior affordable housing complex in Cascade Locks this summer.
"We've had an overwhelming demand," said Ruby Mason, mid-Columbia Housing Authority director. "We've had 240 applications for 40 units."
Hood River County, and Hood River in particular, has long faced an affordable housing crunch, and Mason hopes the Hood River Crossing project will show that more is needed.
Many of the applicants have been couples and families, and interest among farm workers has been particularly strong.
In addition to the overwhelming number of applications for the apartments, Mason said there have been 189 applications for 10 Section 8 housing vouchers for the complex.
Section 8 vouchers allow the tenants to receive government assistance to cover rent over 30 percent of their income level.
"It underscores the fact that there is a significant demand for affordable housing in Hood River," Mason said. "There is a far greater demand than we have the ability to meet."
Mason said one of the biggest areas of need has been among farm workers, who she said have a hard time finding housing options.
"We have done significant outreach to farm workers," she said. "It is certainly not restricted to farm workers but we are responding to an area of need."
They will have somewhere to live soon. The project, built by Bogatay Construction, is around 85 percent completed and Mason said it was on track to open May 1.
Mason said many of the applicants so far had been families, with a few couples and individuals applying for the units.
While the Hood River Crossing project finishes up, the wheels are in motion for a senior housing project in Cascade Locks.
"We have all the funding approved and the city has approved the site plan," Mason said.
The 13 units will be age-restricted to residents 62 and over with one unit income-restricted.
The project is funded through HUD capital development program and will be located on Bell Street behind Cascade Locks City Hall.
Cascade Locks interim city administrator Rich Carson said the city and the Housing Authority had reached a memorandum of understanding on the plans, which should allow construction to begin soon. He said the project also helps to fill a need in the city. "In terms of these kinds of facilities I don't know that we have any," he said. Mason said the project should begin construction in June, just as the Hood River Crossing project finishes up.