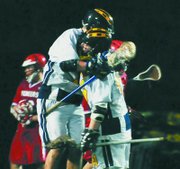 Once it got back to full strength, it didn't take long for the Hood River Valley boys lacrosse team to get its groove back.
The Eagles outscored the Oregon City Pioneers 10-1 in the second half Tuesday to win 15-5 and get its first victory of the season.
"We learned how to finish the game and play all four quarters," middie Andrew Thompson said. "That's what we did tonight, holding them to no goals in the third quarter."
Both teams started slow while playing in a cold driving rain, with both goalkeepers making several nice saves to keep the contest a low scoring affair in the first half.
In the second half of their first home game against Beaverton before spring break, the Eagles folded in the second half, allowing Beaverton to escape with a one-point win.
This time the Eagles came out fired-up and immediately went on the attack.
HRV scored six goals in the third quarter while taking 15 shots on goal.
They capped that with four more in the fourth quarter and kept Oregon City off the scoreboard in the second half until midway through the fourth quarter.
Jesse Keopaseuth led the HRV scoring effort with seven goals - including a spectacular behind-the-back flip in the first half. Jacob McHale scored three goals, Ian Hunt two and Taylor Cramer, Thompson and Miles Mayer had one each.
After showing signs of progress during games over spring break, the Eagles were able to put it all together in the second half against Oregon City.
"We learned to play a full game," Thompson said. "Games before, we got hyped-up about how we were doing at the half and let it slip."
Finally having his whole team coming off the break, HRV coach Mac Jackson was thrilled with how his team got to work.
"That second half was the best we've played all year," he said.
The Eagles were dominant in the second half. They collected 22 ground balls to Oregon City's 1, outshot the Pioneers 24-2 and won eight face-offs to Oregon City's two.
Jackson credited the change to improved play in the defense and the midfield.
"We were working through multiple dodges and if we didn't get a first shot we were patient and got another one," he said.
The midfield group accounted for five goals and three assists, and after one goal Jackson was urging them on, saying, "See? Midfielders can score!"
"Our midfielders really did a nice job offensively with Jacob McHale with a hat trick, and Andrew and Miles and Gabe all had good games," Jackson said.
The Eagles continued to roll Thursday night, blasting Cleveland 15-4 in their league opener.
HRV hosts Lincoln Tuesday at 7 p.m.