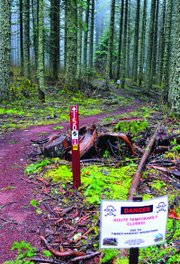 A dramatic timber project adjacent to Riordan Hill Road will close a popular west side mountain biking trail for the next few weeks. Contractors for the Pine Leaf Timber Sale, on county forestry land a couple miles up from Family Man Staging Area, will be working on a steep area of mostly blown-down timber that runs next to sections of the cross country trail called 8 Track.
The Pine Leaf sale consists of three units. The one to be harvested this month - the smallest of the three - sits on a steep hill next to a unit that was clearcut a couple of years ago. The area is prone to strong west winds that roll over the hills between Mount Defiance and the Columbia River; and when the one lot was clearcut, it left the edge of the neighboring unit susceptible to blow-over.
Because of the steep terrain, the project will be a "high lead" sale. A tower at the top of the hill will be set up, with several support cables. The tower and cables will be used to lift timber entirely off the ground and haul it up the hill.
Henry Buckalew, Hood River County Forestry, said the project and the trail closure should last three to five weeks.
"The trail should be open and ready as soon as the sale is over," he said. "No trails are within the unit so there should be no adverse effects on existing trails. Please avoid all operations in the area. It is steep, rugged terrain; there will be cables suspended overhead and there is always the possibility that materials could roll downhill."
Specifically, the closure is the section of 8 Track that begins at Riordan Hill Road across from the bottom of Extended Play, down to and including the portion of trail that travels along old Forest Road 1003 to the sharp turn at Clover Leaf; and the section that begins at Clover Leaf down to the junction of 8 Track/The Boot. 8 Track down from its junction with The Boot will remain open, as will The Boot.
Buckalew said the county has a goal of replanting clear cuts on its property within a year; 400 per acre, usually in the spring when the snow starts to melt.