Wednesday, April 13, 2011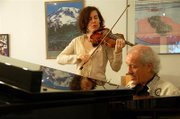 Al Stewart tickets on sale
Grammy nominated and Platinum selling recording artist Al Stewart, best known for his songs "Year of the Cat," "Time Passages" and "On the Border" comes to the Columbia Gorge Interpretive Center in Stevenson, Wash., on Saturday, May 14, at 8 p.m. This special acoustic evening will feature guest guitarist Dave Nachmanoff. Seating is limited. Tickets are $25, available at 1-800-494-TIXS or www.SkamaniaArts.org. The concert is presented by the Skamania Performing Arts Foundation.
'Whiskey Rebels' play April 15
On Friday, April 15, The Low Down Whiskey Rebels will play a full night of original country/bluegrass infused soul music at Double Mountain Brewery in Hood River. The show starts at 8:30 p.m. and there is no cover charge. The Low Down Whiskey Rebels are an all-original post Prohibition era country-western band that sounds like a tribute to Hank Williams, Merle Haggard, Townes Van Zandt and Willie Nelson. With rich harmonies, murder ballads and boot stompin' two steps that span the whole spectrum of Americana music, they are here to make you dance, laugh, think, and cry some tears.
Stillman at HR Hotel
On Friday, April 15, it's jazz music and more from Susie Sinclari, Bill Irish and Susan Crowley from 6:30-8:30 p.m. On Saturday, April 16, Mike Stillman and friends will be playing from 6:30-8:30 p.m. Hood River Hotel, 106 Oak St., Hood River; 541-386-1900.
'Duende de Lorca' April 22
Columbia Center for the Arts is proud to present "Duende de Lorca," a new bilingual play by Teatro Milagro, on Friday, April 22, at 7:30 p.m. "Duende de Lorca" is the story of Federico García Lorca who is celebrated the world over for his poetry, music and plays. At the age of 27, Lorca was still a struggling artist living with his parents, staging puppet plays that were laughed off the stage by the critics. His need for freedom fueled his desire to succeed. In search of "duende" (heightened emotional awareness), his travels through New York and Cuba became a quest for cultural integration and gender acceptance. "Duende de Lorca" follows the early years of Lorca's early successes from the opening night of Mariana Pineda, followed by the printing of Gypsy Ballads and Poet in New York. Audiences will share in his triumphs and failures and his relationships with Salvador Dali, Melchor Almagro, Emilio Aladren and others as his journey from New York to Cuba shapes his life and his art. This is a one-night only performance by Teatro Milagro. Tickets are available at Columbia Arts and Waucoma Bookstore in Hood River, and online at www.columbiaarts.org. Ticket prices are $5.
Pete Krebs at CEBU Lounge
Pete Krebs and the Portland Playboys return to the CEBU Lounge in Hood River on Friday, April 15. Music starts at 9 p.m. and there is no cover. Featuring singer/guitarist Pete Krebs along with Keith Brush on double bass, David Langenes on second guitar and the newest addition Mr. Russ Blake on pedal steel, the Portland Playboys play only the best in hot jazz and western swing. On Saturday, April 16, it's the return of Cameron Ferguson at 8 p.m. Cameron will serenade you with his unique renditions of many popular songs; from Led Zeppelin to Dave Matthews, from the Violent Femmes to the Eagles.
Lloyd Jones at The Pines
On Friday, April 15, it's the sultry musical styling of Henry Schifter at The Pines in Hood River from 6:30-9:30 p.m. Relax to his covers of some of the best jazz songs in English and French. J'adore! On Saturday, April 16, from 6:30-9:30 p.m., it's guitarist Lloyd Jones with a new acoustic solo CD "Highway Bound." "Jones has forged a 30-plus-year career as an impassioned singer and fierce guitar slinger, a clever and soulful songwriter and a torchbearer for America's music."
Jazz house concert April 15
Windham Hill recording artist Scott Cossu with partner Jessica Blinn will be playing a house concert on Friday, April 15, at 401 Montello in Hood River. Cossu's jazz, new age and blues piano has earned him volumes of critical acclaim, and Blinn's fiddle is a lovely counterpoint. Music starts at 7 p.m. and donations are accepted.