Wednesday, April 13, 2011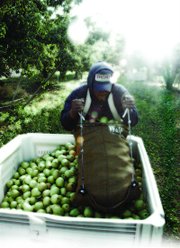 Recall the plight and resourcefulness of Tom Hanks' stranded innocent-immigrant-guy in the 2004 film, "The Terminal"?
Real life sometimes imitates art, but in this case, on a much larger scale.
In the U.S. today, it is estimated that more than 12 million young people are stranded in educational - and subsequent employment - limbo because they arrived in this country as minors without legal immigration documentation, following parents who moved their families here in search of work.
Most of these youth who may feel marooned have spent years in the U.S., having been brought here as infants, young children or teens by parents seeking to work and support their families.
Once these young people graduate at the high school level - like the nine to 12 seniors per year at HRVHS - they become locked in a very real dilemma.
What's the dilemma? No legal status for minors translates to no driver's licenses, no legal employment, no financial aid, no student loans, many colleges who obstruct enrollment and vastly increased out-of-state or international student tuition rates at colleges which allow enrollment.
On the flip side - these students are fully acclimated to the U.S. and often have limited or no connection to the country where they hold legal status, given that they have lived a large part of their lives in the U.S. and may have no family remaining in their country of origin.
To put a face on the story, a 20-year-old Hood River resident for the last five years, "Benjamin," offered to share his experience. His real name is being withheld to ensure he is not penalized for speaking out.
"I graduated from HRVHS in 2008. I would like to teach Spanish at colleges and universities. Plus, if possible, I would also like to enter the applied linguistics master's program to teach English as a second language."
Benjamin is a high achiever with great ambitions.
This young Hispanic man succeeded in school at HRVHS - netting A's and B's - but found his path to college barred by no access to financial aid.
Because Benjamin was originally brought to the U.S. illegally, he has been barred from receiving both state and federal student assistance - neither grants and loans.
"Luckily, I had a sponsor who helped me to pay for my first two years of community college tuition. However, tuition is not the only expense at college," said Benjamin.
After HRVHS, Benjamin successfully completed two years at Columbia Gorge Community College. He is now enrolled at Portland State University where he is struggling financially.
"Unfortunately, now that I am at PSU, I do not have the support of my sponsor anymore. To cover PSU tuition, I am using all my savings that I saved up while going to high school," said Benjamin.
"But how much can a college student - who pays for his rent, food, clothing and school supplies - save up with a job that pays minimum wage? Not much."
Without disclosing how he's handled the lack of an official work permit, Benjamin went on to say, "To pay for everything, I work part-time jobs during school and full-time jobs during summer - when I work picking pears. If I pick fast, which I do, I can get more money than working for hours."
Portland State University interprets regulations on obtaining student immigration status in a way that has allowed Benjamin to enroll. He does not receive any financial aid but has be granted special in-state tuition rates - unlike most undocumented students.
PSU is one of the few options Benjamin has in his quest to become a fully educated, highly employable taxpayer in the state of Oregon.
However, upon graduation, Benjamin will still face real hurdles to employment, and will be barred from licensures needed in his field without first obtaining legal status.
With the passage of the current Oregon Senate bill providing in-state tuition costs for undocumented youth (see accompanying article), Benjamin will legally have access to in-state tuition rates throughout Oregon.
With the passage of the Federal Dream Act, Benjamin would benefit further - having a legitimate path to citizenship and full employment.
Like Tom Hanks' character, Benjamin is resourceful. He is managing to survive day by day.
But, with quiet determination, he hopes to find a way to escape his ambiguous future - a future which currently lies suspended between two countries, two political parties and the will of citizens across the U.S.