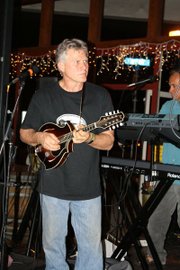 Radio Cowboy at Naked Winery
Friday, April 15, 4-7 p.m. Kit Garoutte — Celebrate that the tax season is over with Kit as he shows his solid musicianship by seamlessly blending his influences into an original, organic sound. It's jazz, rock and new acoustic mixed with inventive songwriting.
Saturday, April 16, 7-10 p.m. Radio Cowboy — A trio of accomplished songwriters, including Heather Christie, Philip Pelletier and David Miottel. Combining sounds inspired by artists like, Joni Mitchell, Rickie Lee Jones, Gillian Welch, Counting Crows, Emmy Lou Harris and Mark Knopfler Radio Cowboy transmits just the haunting, melodious groove you want to tune in and ride.
Sunday, April 17, 5-7 p.m. Ben Bonham — Ben's guitar playing is rooted in the music of pre-radio America when all music was live and styles weren't pigeonholed. You might catch him playing country blues, ragtime, vintage swing, Delta blues, folk, jazz, old-time country and Hawaiian.
Monday, April 18, 7-10 p.m. — Naked Winery's open mic/Jam hosted by Les Vaughn.
Williams at Springhouse April 19
Celebrate the spring season on Tuesday, April 19, with acoustic music and more from Kerry Williams. Music goes from 7-10 p.m. and there is no cover charge. Springhouse Cellar, 13 Railroad Ave, Hood River; 541-308-0700.
Bellydancing at Solstice
Join Solstice Wood Fire Cafe in Bingen for a live bellydance performance with the Columbia Gorge Dancers on Friday, April 15, at 7:30 p.m. No cover charge. Solstice Wood Fire Cafe, 415 W. Steuben, Bingen, Wash.; 509-493-4006.
Beach plays Thirsty Woman
The Thirsty Woman Pub presents American soul-singer songwriter Rian Beach on Saturday, April 16, from 7 to 9 p.m. No cover — always a good time. Thirsty Woman Pub, 904 Second Ave., Mosier; 541-478-0199.
Open Mic at Ananas April 16
Ananas Boutique and Copa Cabana in The Dalles is having a musician's Open Mic Night on Saturday, April 16, from 6:30 to 8:30 p.m. Ananas Boutique, 414 E. Second St., The Dalles; 541-296-1110.
Full Sail helps GGFN April 21
Come "Meet the Brewer and the Beer" at Full Sail in Hood River on Thursday, April 21, from 5-6:30 p.m. Brewer Josh Pfriem has created "Josh's Spring Has Sprung," a Cascadian blonde ale. A portion of the proceeds supports the Gorge Grown Food Network. For more information call 541-386-2247
Way Downs play April 15
The Way Downs pull their sound from a gold mine of pre-disco funk — the same tracks now sampled widely by DJ's and producers all over the world. Join their good-time, groove-based dance music at Everybody's Brewing on Friday, April 15, starting at 9 p.m. Everybody's Brewing, 151 E. Jewett Blvd., White Salmon, Wash; 509-637-2774.
'Duende de Lorca' April 22
Columbia Center for the Arts is proud to present "Duende de Lorca," a new bilingual play by Teatro Milagro, on Friday, April 22, at 7:30 p.m. "Duende de Lorca" is the story of Federico García Lorca, who is celebrated the world over for his poetry, music and plays. At the age of 27, Lorca was still a struggling artist living with his parents, staging puppet plays that were laughed off the stage by the critics. His need for freedom fueled his desire to succeed. In search of "duende" (heightened emotional awareness), his travels through New York and Cuba became a quest for cultural integration and gender acceptance. "Duende de Lorca" follows the early years of Lorca's early successes from the opening night of Mariana Pineda, followed by the printing of "Gypsy Ballads" and "Poet in New York." Audiences will share in his triumphs and failures and his relationships with Salvador Dali, Melchor Almagro, Emilio Aladren and others as his journey from New York to Cuba shapes his life and his art. This is a one-night only performance by Teatro Milagro. Tickets are available at Columbia Arts and Waucoma Bookstore in Hood River, and online at www.columbiaarts.org. Ticket prices are $5.
Entertainment listings can be e-mailed to jdrake@hoodrivernews.com