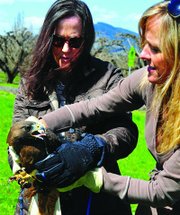 It's a sunny Tuesday afternoon when Susan Lestock pulls a large Tupperware container from her car parked along Indian Creek Road. The animal inside is restless, and the blue plastic container starts hopping around like a magic jumping bean.
A couple minutes later Dani, Isabella and Joe Correa pull off the road and join Susan and her daughter, Marlie, in the strip of grass leading from the road to the second fairway of the nearby golf course. Wearing a pair of old ski gloves, Lestock slowly slides the lid open to reveal the dark brown feathered back of a beautiful red-tailed hawk.
After a few instructions on how to handle the hawk firmly but carefully, and what to do with it next, Dani takes hold of the bird's turkey-sized torso, steps away from the street and launches it into the air.
It was the moment of truth for the bird which, about a month ago, Correa spotted at the very same place; emaciated, lethargic and unable to fly.
"It was a beautiful sight to see it soar away," she said the next day. "We stayed around for a little while and could see it flying in circles above us."
With warmer weather, sunny skies and the thawing-out of all kinds of life, spring also brings an increase in wild animal encounters. That's especially true in places like the Hood River Valley and the Gorge, where the boundaries of human and animal activity are so closely entwined.
Lestock said this particular hawk, an adult male, most likely collided with something and was trying to recover when Dani spotted it on the side of the road.
"Birds have really fast metabolisms, so they get weak quickly if they aren't able to eat," Lestock said.
After noticing the bird was unable to fly, Correa pulled over and called the Rowena Wildlife Clinic to ask for help. Lestock, a real estate agent in Hood River, has been a clinic volunteer and roadside rescuer for the last few years. The clinic called her and within half an hour she was on scene with a blanket, a box and a pair of gloves.
"In a case like this, we typically take the animal to the clinic and get it rehydrated and tube-fed right away," Lestock said. "The hawk didn't have any injuries, so once it regained some strength it was moved to a bigger, more open aviary at the clinic.
"This is the perfect example of a success story, and of the mission of the Rowena Wildlife Clinic."
The mission of the clinic, director Jean Cypher explains, is as much about affecting people as it is wildlife.
"There's so little opportunity for people to experience just how similar we are to the animals around us," she said. "When they are healthy, animals usually exhibit the fight-or-flight instinct around humans. But when they are hurt, when they are down in the dumps, we experience a side of animals that we don't usually see. It's then that people learn how similar we all are to the animals around us."
And it's that realization - that impact on the human heart - that can have the greatest positive effect on wild animals and the habitat they need to survive.
"It was a privilege to come into contact with such a beautiful animal," Correa said. "To help rescue it, see it recuperate and have a part in getting it back to the wild has been an amazing experience for us."