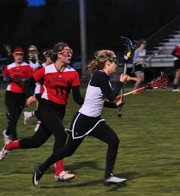 When the Lincoln Cardinals come to town, the result is typically the same no matter where they visit.
Not Monday night.
The Hood River Valley girls lacrosse team hung with the Cardinals for the entire game Monday night and Lincoln was not able to put the game away until the final minutes in a 9-6 victory.
The Eagles consistently stayed within three goals of the Cardinals throughout the night and appeared to have the momentum when Margaret Gleasman scored with 2:12 to play to bring the Eagles within 9-6.
However, the Cardinals were able to win the ensuing faceoff and then kill off most of the remaining time on the clock to get the win.
The Eagles got within three at the start of the second half when Makenzie Bassham scored to make it 8-5 with 19:30 to play, but HRV could not take advantage of several additional opportunities and Lincoln was able to slow the game down.
HRV goalkeeper Christina Silva kept the Eagles in it throughout making 10 saves, including one on a free shot off a penalty that went off her chest protector.
Lincoln was able to score on a third-chance effort with 10:20 to play to push their lead back to four.
Bassham and Gleasman each scored twice to lead the Eagles offensively while Kayla VanHoose and Hannah Hurley had one goal each.
On Defense Kim Costello won five ground balls and three face-offs and caused three turnovers.
After the game the Eagles were proud of their effort, but not happy that they had one of the state's powerhouse teams on the ropes and could not finish them off.
"We made several mistakes," HRV coach Peter Nance said. "But they were mistakes that wouldn't have even happened last year because we wouldn't have seen the (opportunities)."
The Eagles had several close passes go just out of reach or quick passing reads come in a split second to late.
However, Nance said that the fact the Eagles beat themselves more so than having Lincoln soundly beat them showed just how far the team has come in recent years.
"A lot of the girls haven't seen the effort needed for a state championship win," Nance said. "Now every week we are upping the level."
The Eagles debuted new sleek, white uniforms during the game and also had a few new faces.
Ricki Swearingen, one of the team's top scorers from last year, was back in the lineup and played defense.
Nance added that several players currently injured should be returning soon to get the team back to full strength.