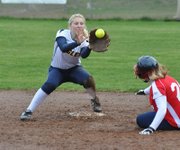 This was how the Hood River Valley softball team drew up its game plans for victory this season: Rely on pitching and defense, take advantage of a few breaks and keep the other team off the scoreboard.
The Eagles shut out Centennial 3-1 Thursday afternoon to wrap up their non-league season.
Kayla Byers did her part to keep the Centennial hitters off balance, and while she didn't dominate, striking out only one, she got plenty of help from an able defense behind her.
When Centennial did threaten, it quickly found its rallies being wiped out by the HRV defenders.
Centennial trailed 3-0 heading into the sixth when they got a two-out RBI. The next batter hit a ground ball in the hole between shortstop and third base which appeared headed for a base hit. Annie Veatch, though ranged well to her left, scooped the ball up and threw to first from her knees to get the inning-ending out.
Centennial got the tying run to the plate in the seventh twice but again the HRV defense came up big.
With one out Sara Budworth got aboard on a blooping single that dropped in front of Erica Enriquez in left. However she was promptly erased on a pickoff snap throw to first base by HRV catcher Logan Bailey. First baseman Natalya Ames then made a quick throw to shortstop Hallie Curtis, who got the tag down just in time for the out.
The next hitter got aboard on a dribbler that died between three HRV infielders. Natasha King hit a flair into shallow left but Curtis was able to backpedal and grab it for the final out.
Veatch the connection between her and Curtis helps to make the left side of the HRV infield nearly inpenetrable.
"We've played together for a really long time," she said.
The Eagles got on the board in the top of the first when Enriquez singled, stole second and was then driven home by Curtis. Curtis then also stole, and came around to score on an error.
They added another run in the third when Veatch drove home a run with a two-out single.
That was all the Eagles would need.
They were headed to Pendleton Friday to open league play against the Buckaroos and the team feels it's ready for the grind of league play.
"We just need to keep playing hard and play together," Curtis said.