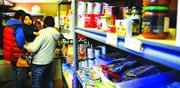 Whether you are a gourmet cook flush with high-priced groceries, a family on an average food budget or one of the 14,000-plus annual Hood River FISH food bank recipients, the Valley is a place where hunger can be satisfied.
"This county is so supportive of our efforts to feed our neighbors," said Becky Bugge, treasurer of FISH food bank. "Even with the recession, they haven't forgotten us."
As most locals know, Hood River Valley is now the number-one producer of pears in the United States. It's not surprising to note, then, that the four county distribution sites for FISH (Friendly Instant Sympathetic Help) often provide fresh fruit for families in need.
"We also have milk, fresh produce, eggs and frozen meats; and veggies as well," said Bugge. These items are often available along with the standard boxes or bags of nonperishable canned and packaged foods.
Bugge credits the well-documented willingness of many people across the community to get involved. More than 350 individuals volunteered for FISH last year alone. Thousands more donate either cash for food purchases or drop off donations at the host sites or during canned food drives.
"In our smaller sites (Parkdale, Odell and Cascade Locks) we have people - neighbors - from those areas who make a point of helping to bring things in to help their neighbors," said Bugge. "One man brings us his own chicken's eggs."
This coming year will require some extra investment from everyone involved - especially those who are able to enjoy the bounty of a good meal.
According to Bugge, a Federal Emergency Management Agency grant, which usually supplies about $4,500 in funding for food purchases, has not been received this year.
"It usually comes in February; but there is no sign of it being awarded this year," said Bugge.
Some other regional grants have been smaller due to lower donations to charities in the area as well.
The Oregon Food Bank also recently alerted regional food banks that the USDA bonus commodity program, a big contributing factor in FISH's available food, will be cut by 66 percent. Meanwhile, local need has grown.
The latest addition to FISH's food bank services in Hood River County was the opening of a Cascade Locks monthly distribution program. FISH stepped in following the closure of the St. Patrick's Episcopal program. The Odell site opened about 18 months ago.
As many high-quality restaurants will attest, locals and visitors in Hood River love and appreciate good food. FISH hopes that some of those same people will join the rest of the already-generous community members in helping FISH meet local family food needs.
"We have a drop box at our Hood River site for nonperishable, current-dated, unopened food items," said Bugge. "Curves, on the Heights, is also accepting donations through April.
"Requests for food are starting to pick up again," she said. "We never turn anyone away who asks for food."
When asked what item is hardest to keep available, Bugge's first response was "Cooking oil - we can't keep it on the shelves. Everyone needs it." Other canned fruits, vegetables, beans, protein foods and baking items are always needed as well.
For those with limited time, cash donations are "always welcome." Checks may be mailed to: FISH food bank c/o Becky Bugge, 3481 Ehrck Hill Road, Hood River, OR 97031.
Food donations or checks may also be dropped off at any of the distribution s