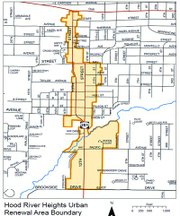 Hood River Heights Business Association members were recently briefed on an upcoming proposal to establish a new Urban Renewal district in the Heights, within the City of Hood River.
Guest speakers for the April 7 , 2011 meeting were Bob Francis from the City of Hood River along with city advisor Elaine Howard, Urban Renewal (UR) project consultant.
A detailed timeline of public notices, procedures, preliminary budget estimates and Ccity Ccouncil meeting dates was provided to the HBA members in attendance.
The currently identified Heights UR projects include: storm water and sewer improvements; water line upgrades; parking improvements; land acquisition; streetscape improvements; connections to local parks and green space; and public space improvements. A business assistance program will also be established with UR funds for façade improvements and other business upgrades.
The proposed UR Plan Area for the Heights encompasses the business zone extending from Brookside Drive, down 12th and 13th Sstreets to the intersection with Oak St.reet.
An estimated cost of infrastructure improvements for the zone was given out along with details of major planned UR project activities, which were developed through a series of public meetings.
Over a twenty20-year period, the UR district will collect approximately $7.3 million in funds to be used toward identified projects.
A City of Hood River Capital Facility Planning meeting was held on April 6, 2011 to discuss roads, water, sewer and the waterline project. The final budget of that plan, to be finalized by October 2011, At the City's Bbudget Ccommittee meeting held on April 6, 2011, the Ccommittee briefly discussed the need to upgrade its 10- year- old Capital Facility Plan which lists road, water, sewer, and stormwater projects. If this is adopted in the budget , the Ccity may provide additional funding towards designated Heights UR infrastructure projects.
Shared taxing districts within the proposed Heights UR Plan Area will forego potential tax revenues equating to $7.3 million over the twenty20-year period - - which equates to an annual average reduction of .9 percent for all entities - - except the City of Hood River, which will be foregoing 2.6 percent of projected revenues.
Taxing districts that will be affected by the new Heights UR district include: Hood River County General fund; 9-1-1; City of Hood River; Port of Hood River; Hood River Parks and Recreation; Hood River Transportation District; Columbia Gorge Community College; Hood River School District; and Columbia Gorge Educational Service District.
Tax districts affected by tax sharing often support UR projects, which generally increase property values and improve both economic activity and infrastructure within the zones.
Additional information on the proposed Heights Urban Renewal Plan Area and upcoming related planning meetings may be obtained from Hood River City Manager, Bob Francis at: BobF@ci.hood-river.or.us or by calling the city offices at: 541-386-1488.