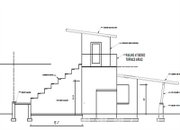 HRV baseball coach Erich Harjo likes what he sees when he looks out at Traner Field.
"The grass is green; the infield has a nice red color to it," he said. "This is a nice place to watch a game."
But he doesn't just want it be nice: Like the expectations he has for his team, he wants it to be the best. He wants it to be a destination, a place where young kids growing up just waiting for the day that they can play there - and he's got a plan to do it.
"This would be the icing on the cake," he said.
The Eagles are hoping to raise the money in the coming year to make substantial upgrades to the field and make it a facility the Hood River baseball community can be proud of.
Small segments of the work have already been done, including a new concrete backstop and new netting behind the plate. When finished, the upgrades would include aluminum bleachers that can hold up to 400 fans.
"As we build a program and get better, there are going to be more state games here and we want to seat 400 people here; not just 150 on wooden bleachers," Harjo said.
The bleachers will be 3 feet off the ground and sit on a concrete base which will include restrooms, concessions, an enclosed press box and a terrace which Harjo said could include fire pits.
The area around the field would also be covered in asphalt to prevent it from turning into a sea of mud during the rainy season.
The dugouts on both sides of the diamond will be moved back to increase the size of foul ground and eventually Harjo would like to build up a high right field wall, which currently is just 233 feet from home plate and an easy home run for lefty pull hitters.
The project will not use any school district money, but will instead paid for by a combination of grants, donations and fund raising.
"It's not a school district job," Harjo said. "We're planning to go with local guys. We want the money to stay here."
Harjo is hoping for the project to be finished in time for spring of 2013, when the freshmen on the team when he became coach will be seniors.
The whole project will cost around $150,000 and Harjo is hoping to get some help from the community for a project which he thinks will pay dividends in local baseball and the community at large.
He envisions the facility hosting spring break tournaments, summer ball tournaments and youth baseball events, as well.
Hosting tournaments with teams from around the area means overnight stays and people with time to spend money in the community.
The team has applied for a grant with Lions, who also helped with the construction of the school's indoor hitting facility and softball press box, and hopes to hear back by December.
At that point Harjo would like work to start going full-speed-ahead so it can be finished by 2013.
Harjo said he has noticed an uptick of kids and people who don't have children in the program coming to watch games, and wants to make the experience more inviting.
Currently the park has old wooden bleachers, a trailer for concessions and porta-potties as restrooms.
That would change substantially with the new upgrades.
Harjo envisions the upgraded facilities being a point of Hood River pride for years to come.
"This," he said, "would be one of the nicer ballparks in the state."