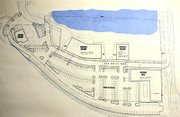 "We thought Nichols Landing would be a good name," developer Bob Naito said of a new proposal for the waterfront property known as Nichols Boat Works.
Naito Development Corp of Portland plans to build three structures - a small waterfront hotel and two commercial/office buildings - on its commercially zoned land at the south side of Nichols Boat Basin, a former industrial site.
Naito said a hotel management company will be hired to handle the selection of the hotel company that would take on the new property, but he is in talks with three hotel companies, Hilton, International and Marriott, to operate the "limited service" hotel
Naito would like to break ground as early as this fall, but said a likely timeline is to begin construction in early 2012 and open the hotel by mid-2013.
Naito will meet Tuesday with City Planning Director Cindy Walbridge for a session known as a "pre-application" meeting.
Here's the profile of Naito's initial proposal:
An 85-100-room hotel, positioned on the southeast corner of the property, three stories, 15,000-square-foot "footprint," total 45,000 square feet
Commercial building, three floors, at the center of the property, 13,000 square feet on three floors, for retail/restaurant
Commercial building, located northwest of the hotel, 5,000 square feet on two floors
The hotel would be located next to the access road to the Spit, and would feature views of both the Columbia and Hood rivers.
A new public road connecting First Street and Riverside Drive to the Spit. Naito said this will provide pedestrian access throughout the area.
The existing road would become parking, along with the vacant land on the site where Windwing is now located. (That one-story building would be removed.)
"The buildings are designed for maximum flexibility for a changing and evolving set of industries, and can easily be configured for single or multiple tenants," Naito wrote in a narrative submitted to the city along with site plans.
In 2008, Naito had submitted preliminary plans for a condominium project on the property.
"The world changed," Naito said of the reason that project was abandoned. "We put a lot of time and money into developing that plan, but then the real estate market cratered."
A market study done in 2006 and updated in 2010 gives strong support for a commercial development on the site, according to Naito. He now foresees a development that offers commercial opportunities for a restaurant or brew pub to complement the hotel, and a "waterfront headquarters" facility for a corporation.
Naito said he anticipates little opposition to the project, because of its modest scale and the fact that no zoning change will be needed.
"As long as we stay within the four corners of the planning requirements, I don't foresee too many issues," he said. "We feel the smaller scale is in the right context for downtown and waterfront Hood River."