Wednesday, April 27, 2011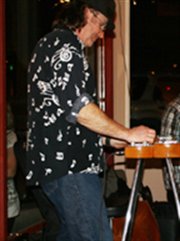 Ben Bonham at HR Hotel
Ben Bonham and his amazing One Man Band — vintage blues, jazz and ragtime, lots of instruments, lots of action, lots of notes — will be playing at the Hood River Hotel on Friday, April 29, from 6:30 to 8:30 p.m. On Monday, May 2, it's the Hapa Hillbillies starting at 6:30 p.m. Hood River Hotel, 106 Oak St., Hood River; 541-386-1900.
Lolo Mo at Double Mountain
Lolo Motion is at Double Mountain on Friday, April 29, from 8-11 p.m. This local trio will feature guests Amber Nelson adding her soulful vocals to the mix along with Pat Driver on saxophone. Sure to be fun! Double Mountain Brewery, 8 Fourth St., Hood River; 541-387-0042.
Barlow Road at Naked Winery
Friday, April 29, 6-9 p.m. Kit Garoutte — Starting a little later this Friday for the weekend crowd. Kick back and relax with his jazz, rock and new acoustic mixed with inventive songwriting.
Saturday, April 30, 7-10 p.m. Barlow Road — Barlow Road is the music machine where Matthew G. Mesa crafts songs reflecting everything about the landscape and its two-legged inhabitants. With guitar in hand and harmonicas close by, he weaves tales about love, life, asphalt, dirt and everything else we get on ourselves. Mesa is joined in this rootsy quartet by the extraordinary Mike Brinster on guitar and banjo, Ed Dietrich on bass, Rick Hulett on electric and pedal steel guitars, and the rocking "timekeeper" Tim Ortlieb on drums. Together, they are a lively, entertaining group just teetering on the edge. Come see what all the fuss is about.
Sunday, May 1, 5-7 p.m. Ben Bonham — Ben's guitar playing is rooted in the music of pre-radio America when all music was live and styles weren't pigeonholed. Like his favorite musicians from the 1920s, Ben's range comfortably spans genres — on any given night you might catch him playing country blues, ragtime, vintage swing, Delta blues, folk, jazz, old-time country and Hawaiian.
Monday, May 2, 7-10 p.m. Naked Winery's open mic/Jam hosted by Les Vaughn.
Last Friday at Solstice
Celebrate "Last Friday" at Solstice Wood Fire Cafe in Bingen this Friday starting at 5 p.m. Local guitarist Sid Ordoyne will provide the tunes, wine by Ziegler and art by Out-There Photography. No cover charge. Solstice Wood Fire Cafe, 415 W. Steuben, Bingen, Wash.; 509-493-4006.
'Meet, Greet' at Book Stop
On Tuesday, April 26, at 7 p.m., Hood River's Book Stop stays up late for its annual Book Club Meet and Greet. Owner Cynthia Christensen will welcome book club members and other lovers of the written word and explore ways to spice up book club discussions. There will be a variety of handouts to help find the most interesting titles for your next book club or summer read and fun activities to get everyone talking to each other about their favorite books. You don't have to be in a book club to come, just be a book lover! Book Stop, 13 Oak Street in downtown Hood River.