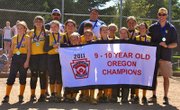 In five years or so, the Hood River Valley High School softball team is going to have some good players.
The Hood River 9-10 softball team took home the state title at the state championship tournament in Eugene Saturday with a 4-2 win over La Grande in Eugene.
Hood River had previously beaten La Grande in the semifinals and used some heads-up play to win the rematch in the championship.
After the two teams finished the regulation six innings tied at 2-2, they went to extra innings and Hood River wasted no time in taking the lead.
Emilie Elifritz and Alexus Outlaw both walked and then wound up scoring on passed balls.
The team of Laney Erickson, Zoe Munn, Janessa Castaneda, Kathirin Hylton, Ellifritz, Kaylin Winans, Makenzie Chambers, Haylee Baker, Lauren Decker, Hannah McNerney Outlaw, Katie Perkins, manager Ryan Munn and coaches Kevin McNerney and Shae Baker finished off La Grande in the bottom of the inning and got to celebrate as state champs.
Before outscoring La Grande 9-4 between the semifinals and the championship game, Hood River had demolished its previous competition, winning its first two games by a combined score of 39-0.
"La Grande was definitely the toughest team we faced," Hood River manager Ryan Munn said.
After a three-week layoff between their district championship and the state tournament, Munn said he was worried about a loss of momentum.
"We were nervous because all we had done was practice for three weeks," he said.
Those doubts were quickly erased.
In their tournament opener the first three hitters of the game all reached on base hits.
"That's when I knew we would be all right," Munn said.
Hood River got contributions from all throughout its lineup for the entire tournament, including plenty of big hits. But when it needed to, the team played small ball.
It scored its first two runs in the first inning in the final against La Grande in such fashion.
Hannah McNerney reached on a one-out walk. Zoe Munn drove her to third with a double. McNerney then scored on a passed ball, and Munn followed by scoring on an RBI ground ball by Makenzie Chambers.
La Grande battled back to tie the game with a run in each of the second and third innings, but Hood River got its two runs in the seventh to claim the win.
It was a long week for the team, but Munn said that with four games in eight days, the team had plenty of chances to have fun, as well.
"Everyone had a great time," Munn said.
Many of the team's players are already playing ASA softball on Munn's traveling team and the coach believes they will only continue to improve.
"I see bright things for them," he said. "It's not just that they have talent, either; they are all willing to work hard."