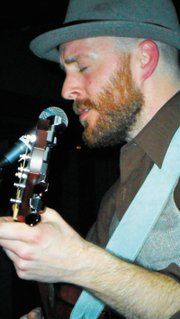 Wild & Scenic Film Fest returns
The Hood River Valley Residents Committee and the Crag Law Center presents the Wild & Scenic Environmental Film Festival on Aug. 24-25, at Springhouse Cellar in Hood River. Doors open at 6:45 p.m. and films start at 8 p.m. The evening features live music and a raffle, and food and beverage will be available for purchase. Tickets are $7 per night ($12 for both nights); seniors and students $5; groups of 10 or more $5 each. This year, a dozen films explore travel and adventure throughout the world, focusing on individuals who are making a difference and bringing attention to unique ecosystems. There's at least one animated short story and a one-of-a-kind nature "mock-umentary" which explores the lifecyle of the plastic bag.
Will West at CEBU Lounge
Friday, Aug. 12, Will West & the Friendly Strangers — up-tempo American/roots 9:30 p.m. The Portland Mercury says "The Friendly Strangers are a formidable ensemble, boasting fiddles, banjos and mandolins, all guided by West's casual ringleading." Saturday. Aug. 13, Moe Dixon & Kerry Williams, 9 p.m. — folk, Americana, roots. Moe Dixon is a familiar name on the festival and concert club circuit. In performances across North America and Europe, Moe is best known for his ability to create an energy that brings people together through his remarkable and energetic guitar solos. Joining Moe will be the Gorge's own mandolin master, Kerry Williams.
Fenderbenders play concert
There will be a house concert at The Griffin House (4168 Westcliff Drive, Hood River) featuring the fabulous Fenderbenders. Known for great rock 'n roll, country and blues stylings of original songs by Ted Matzen and Les Vaughn, the Fenderbenders also play renditions of the classics. Enjoy excellent guitar artistry with slide and dobro. The show is 7-10 p.m. on Thursday, Aug. 11, and will celebrate the new CD release for the band. $10 suggested donation.
Stillman at HR Hotel
On Friday, Aug. 12, Hood River Hotel will be hosting the talented Kerry Williams as he plays some originals and your favourite tunes on the mandolin, ukulele and guitar from 7-9 p.m. Mike Stillman will entertain from 7-9 p.m. with his dazzling jazz on Saturday, Aug. 13. On Monday, Aug. 15, the Hapa Hillbillies return with their Monday night swing from 6:30-8:30 p.m.
Joel Valle at The Pines
Quench your thirst and musical cravings Thursday night at The Pines in Hood River. Join Kerry Williams and his musical compadres as they rock The Pines with their impromptu solos and smooth vocals from 6:30-9:30 p.m. On Friday, local musician Joel Valle once again brings his smooth vocals and delicious guitar strums to the tasting room from 6:30-9:30 p.m. Self-taught, Joel draws inspiration from the likes of James Taylor, Dave Matthews, Santana and Bruce Springsteen. Not to be missed!
'Jenny Sutter' staged Aug. 12
On Friday, Aug. 12, CAST will present a staged reading of "Welcome Home, Jenny Sutter," at the American Legion Hall (208 Main St.) in Mosier. The performance starts at 7:30 p.m. and donations are accepted. In the play, Jenny Sutter, a U.S. marine who lost part of a leg in a suicide bombing, is just back from Iraq. Her two small children have been living with Jenny's mother. But Jenny is not ready to go home. She feels guilty about the circumstance of her injury, and she wonders how her family will see her now. The play portrays a critical aspect of a war that's not over yet. "Welcome Home, Jenny Sutter" by Julie Marie Myatt, had its world premiere at Oregon Shakespeare Festival and went on to the Kennedy Center in Washington, D.C.
Hawaii comes to Bingen Aug. 13
Hawaii comes to Bingen's Daubenspeck Park from 6-9 p.m. on Saturday, Aug. 13, as the Hapa Hillbillies bring hot vintage swing, jazz and country with a Hawaiian flavor and fire dances by The Instruments of the Now troupe. The Hapa Hillbillies explore music in the tradition of "hapa haole" songs, referring to the musical stew cooked up when traditional Hawaiian bands touring the mainland around 1915 met American jazz musicians. These styles blended in a beguiling "Hot and Sweet mix" of English and Hawaiian words, traditional vocal harmonies and Hawaiian instruments played with jazz stylings. The Hapa Hillbillies take the sound even further, spicing it up with a little country and adding an old-time hillbilly flourish.
The band features top musical performers Ben Bonham, Dennis Williams, Rick Hulett, Ronnie Ontiveros and Larry Wyatt. Their new CD of vintage Hawaiian swing, country and hot jazz, "I've Never Been to Hawaii," will be available at the show.
As dusk gathers be prepared to be amazed as The Instruments of the Now troupe take the stage with fire dances, flaming batons and juggling. Featuring Zan and Aurora, along with Noah and Annetta from Hawaii, they will magnetize your attention!
Fire District 3 will be there to chill the kids and maybe quench the fires if things get too hot! The Bingen/White Salmon Police Department will also be there to help entertain the kids, plus volleyball, BMX bikes, skateboarding and other games. Bring your own picnic basket or enjoy Beneventi's Pizza, Poppy's Teriyaki and D'Lish's Catering's desserts.
This concert is sponsored by ex-city councilman Anthony Coulter, the Mt. Adams Chamber of Commerce and Bingen-White Salmon Business Partners. Concert chair Bill Werst guarantees that the first 150 attendees will get a lei. So, come early. Aloha.
Entertainment listings can be e-mailed to jdrake@ hoodrivernews.com