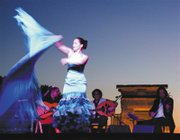 Organic Sol at Stonehedge
Organic Sol is a popular Southern California duo serving up soulful blues, cool jazz and acoustic melodies. Their music is inspired by their love for romantic standards, jazz, bebop, funk, world, Latin and Brazilian music. The word "organic" means, "fundamental, back to the basics" and it describes this duo perfectly. The core of their remarkable sound is the basic purity and strength of Lynee's voice and Kamau's drums and acoustic guitar. The duo appears at Stonehedge Gardens on Saturday, Aug. 20.
Bongo Love returns Aug. 16-19
Bongo Love, a band of Zimbabwean musicians who visited in 2008 and 2009, will bring their unique Reggae-Afropop inspired sound to Hood River for classes and performances. Bongo Love was formed in Bulawayo, Zimbabwe, by drummer, vocalist and composer John Mambira. The quartet, comprised of John on vocals and drums, Trymore on mbira, Mpho on baritone marimba, and James on guitar, delivers a unique combination of styles they call Afro-coustics, blending traditional instruments with guitar to produce their reggae-inspired "ethno-pop" sound. Schedule Tuesday, Aug. 16, 7-8:30 p.m. African Dance Class at Musango Center, $15. Learn some fun dance moves to try out at the concerts, and get a workout at the same time! Thursday, Aug. 18, 7:30-10:30 p.m., Double Mountain Brewery. No cover, 21 and up after 8 p.m. Friday, Aug. 19, 7:30-10 p.m., Musango Center House Concert. 4690 Riordan Hill Dr. All ages welcome. Admission sliding scale $5-$10. Children under 12 free with their parents.
Fiddlegrass at The Ruins Aug. 16
Fiddlegrass is the featured band on Tuesday, Aug. 16, from 6-9 p.m. at the Springhouse Cellar Ruins summer concert series. This is a family-friendly, free event. Donna, Pam, Doug and Chuck will pick and sing some bluegrass while you feast on artisan wood-fire pizza and s'mores, all paired with delicious Gorge wines made in-house. Check the band's website at: www.fiddlegrass.net. For more on Springhouse's summer local musician series: visit www.springhousecellar.com/ events/ruinstuesdays.
Al Andalus plays the Gorge this weekend
The Gorge Music Festival presents Al Andalus: Tarik and Julia Bazi with Emily Miles and Zahra, playing ancient and contemporary Flamenco music from Spain & Morocco. The band will feature the Arabic instruments Oud and Ney, plus Flamenco guitars and a dancer. Concerts are Friday, Aug. 12, at Bethel Congregational Church in White Salmon and the show repeats Saturday, Aug. 13, at Riverside Community Church in Hood River. Concerts are at 7:30 p.m. Suggested donation is $15.
Al-Andalus Ensemble founders Moroccan oudist Tarik Banzi and flamenco guitarist Julia Banzi perform with Zahra Banzi, a contemporary flamenco dancer and multi-lingual vocalist Emily Miles to create an emotive tapestry of sight and sound.
The Al-Andalus Ensemble is steeped in tradition but the group beautifully and soulfully merges classical, jazz and contemporary music with music from the Middle East, North Africa and Spain to create what reviewers have called "a delightful proposition of exquisite music" (El Pais, Madrid, Spain).
Historically, Al Andalus was a time when Christians, Jews and Muslims lived in peaceful co-existence (Spain 711-1492). The Al-Andalus Ensemble locates its creative impetus in the rebirth of Al-Andalus in todays cultural landscape.
The ensemble won the VOX POP Award for the "Best Contemporary Classical Album of 2010" and the JPF "People's Grammy Award" for "Best World Music Song of 2009" (selected from over 560,000 songs entered from 163 countries in the world's largest Independent Music Awards).
Performing to universal acclaim through a repertoire that embodies a new sonic vision that embraces our global cultural heritage, this season the Al-Andalus Ensemble's international engagements have taken them to Belgium, Canada, France, Germany, Holland, Morocco, Malaysia, Spain, Switzerland, Qatar, United Arab Emirates and the United States.
Audiences can expect a program with rich and unusual instrumentation. The oud (parent of the Renaissance lute), ney (Arabic reed flute) and darbuka (ceramic drum) are entwined with the warmly emotional violin and punctuated with flamenco guitar to create a "unique, deeply moving music — a development as fruitful as Astor Piazzolla's when he shocked the Argentinean establishment with his "Nuevo Tango" (Ted Gioia critic, author of "History of Jazz"). The concert promises to be a fascinating evening where parallels and contrasts will be drawn between the old and the new.
Highlights of the program often include contemporary works as well as traditional pieces from Al Andalus, Afghanistan and Iraq.