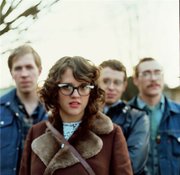 Henry Turner at Waucoma Club
On Saturday, Aug. 20, Louisiana-based Henry Turner and Flavor bring their ultimate Louisiana Party Tour to the Waucoma Club in Hood River. Exciting stage performances will be headlined by Henry Turner Jr. and Flavor featuring Henry Turner Jr., guitar and lead vocalist; Ronnie Houston, drums; Kenneth Campbell, keyboards; and Nick Hass, bass guitar. Always playing in a festival-like atmosphere, the Flavor's signature Louisiana reggae/soul has captivated national and international audiences for more than a decade.
Sallie Ford at CEBU Lounge
CEBU Lounge presents Sallie Ford & the Sound Outside on Friday, Aug. 19, at 9:30 p.m. Touring behind their new album, "Dirty Radio," the band delivers vintage, soulful indie pop with a modern edge. Sallie Ford grew up playing the guitar and the violin. Inspired by the vocal stylings of old jazz, blues and soul singers, Sallie and her three-piece band, "The Sound Outside," seek a contemporary sound to throw into the mix. On Saturday, Aug. 20, the Hapa Hillbillies play at 9:30 p.m. — jazz and Americana, with a Hawaiian twist. The band features Ben Bonham, Dennis Williams, Rick Hulett, Ronnie Ontiveros and Larry Wyatt and if it looks like they are having fun, that's because they are. Their new CD "I've Never Been to Hawaii" is now available.
Gordie Withrow benefit Aug. 28
The Knuckleheads — the best of the best PDX blues players are coming to The Pines Tasting Room on Sunday, Aug. 28, from 4-7 p.m. to play a benefit concert for Mosier resident Gordie Withrow, who lost everything in a house fire earlier this year. Suggested donation is $20 or more.
Groove in the Gorge is back
Groove in the Gorge Dance Party is back on Friday, Aug. 26, with DJ Mojo starting at 8 p.m. at the Paris Fair event space, 315 Oak St., third floor, in Hood River. Admission is $8. The event features open dancing to familiar '80s, funk, blues and swing, along with world groove to expand your musical horizons. All tickets enter into a raffle for free acupuncture treatments. Bring canned food donations for the food bank and receive an extra raffle ticket for every two cans of food donated. This alcohol-free event is sponsored by Cascade Acupuncture Center. .
'Twelfth Night' auditions
"Twelfth Night" is set to open in December at the Columbia Center for the Arts, 215 Cascade Ave. in Hood River. Auditions are being held in the CAST theater on Sunday, Aug. 21, from 2-4 p.m.; Monday, Aug. 22, from 7-8:30 p.m.; and Tuesday, Aug. 23, from 7-8:30 p.m. Actors should be prepared to recite a sonnet or monologue from one of Shakespeare's plays. The play is set in Illyria, a land where mistaken identities, disguises and secret messages make it a confusing place indeed. Three roles for women: Viola, young aristocratic woman who shipwrecks in Illyria (age 20-30); Olivia, a wealthy lady of Illyria (20-30); Maria, Olivia's clever gentlewoman (20-30) Seven roles for men: Orsino, powerful nobleman of Ilyria (25-35); Sebastian, Viola's twin brother (20-30); Malvolio, straight-laced head servant (30-40); Feste, the fool/clown (30-50); Sir Toby Belch, Olivia's rowdy uncle (30-50); Sir Andrew Aguecheek, Sir Toby's idiotic friend (age 30- 50); Antonio, Sebastian's loyal friend (20-30).