Wednesday, August 31, 2011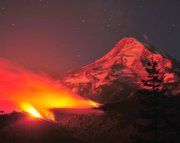 On May 24, 2011, the Hood River County Planning Department issued an investigative notice to Cascade Locks city councilman Kevin Benson for the addition of two cabins to his KOA campground on Forest Lane, constructed and installed without city approvals or county permits.
The investigation visit on May 23, conducted by County Building Inspector Mark Van Voast, notes that George Fischer, mayor of Cascade Locks, was present during the site visit.
"Fischer indicated verbally to me that he was involved in the installation of the cabins; although I have no written documentation of his specific participation," said Van Voast.
Electrical, water and sewer system connections had already been completed on May 23 and Van Voast indicated that the installation appeared to have occurred within a week prior to his arrival.
The report also noted that "no land use approval has been issued by the City of Cascade Locks for the additional structures…"
(Update Aug 31: The Hood River News wishes to correct parts of the Aug. 27 article, "Cascade Locks officials involved in permitting irregularities," including an erroneous statement pertaining to Mayor George Fischer.
Building Inspector Mark Van Voast of the Hood River County Building Department contacted the News following the article publication, expressing concern that he had been misquoted.
During the May 23 site visit, Van Voast completed the site investigation and wrote up the violation notice noting the presence of both Benson and Cascade Locks Mayor, George Fischer during the visit on May 23.
The disputed quote as published was: "Fischer indicated verbally to me that he was involved in the installation of the cabins; although I have no written documentation of his specific participation."
In response to Van Voast's concern, news reporter Julie Raefield-Gobbo, read back her original question and Van Voast's transcribed response to Van Voast for clarification:
Q: I see that Geroge Fischer is listed as having been there during your site visit. In what way was he involved?
A: "He indicated ... told me … that he assisted in the installation of the cabins although I have no evidence - no written documentation - of the specifics of his involvement."
Van Voast responded to this review and stated that he had actually been referring to several unspecified "third parties" and not Fischer himself as having been the source of information on Fischer's involvement in the installation of un-permitted structures to the KOA campground - improvements that have now come under scrutiny.
Van Voast indicated that a more accurate reflection of his intended answer would have been that he had indications from third parties that Fischer was involved in the installation of the cabins.
It was accurately reported in the Aug. 27 article that in Van Voast's investigation noted Fischer was present during the May 23 site visit.
Van Voast also clarified that the article should have stated that plumbing and sewer connections had occurred and electrical and other utility trenches had been created with electrical boxes installed by the time of the May 23 site visit.
Fischer had been contacted prior to the first publication but did not return calls.
In response to this follow-up, Fishcher said by phone Tuesday morning that he was not going to comment on the story. "The response is I don't have any response" to anything that has to do with the Hood River County Building Department.
Fischer referred further questions to Cascade Lock's interim city administrator Paul Koch, who started work Monday.)
Both Benson and Fischer were city officials at the time of the noted violations.
"This is a unique situation not addressed in the Hood River County Code or the Cascade Locks city planning codes. There is room for interpretation," said Benson when asked for comment.
When asked to respond to the official violations noted by Van Voast, Benson responded, "I am not disputing his assessment. I am responding to how the units came to be located there in the first place. It is not a black and white issue."
When asked if he sought expert legal or planning advice prior to installing the units on his property, Benson replied, "No I did not."
Benson refused to comment on Fischer's involvement in the project.
The KOA campground, according to a summary of planning and sanitation records conducted by the Cascade Locks deputy city recorder, was originally granted a conditional use permit to create 58 camping spaces in 1969. It currently advertises 91 on the KOA website.
A subsequent notation in public records reports the total spaces approved at 78. No records clarify how the remaining additional structures came to be sited in the campground.
Benson stated that the cabins were "mobile units" and therefore "not buildings or structures, houses or mobile homes" and therefore not subject to the same codes.
Photos from the building inspection reports show the cabins attached to post and pier foundations.
Additional permitting-related actions continued following the issuance of the investigation notice May 24.
The sequence of events regarding the un-permitted cabins following the May 24 investigation notice is documented within a memo from Cascade Locks consulting city planner, Larry Epstein, submitted to Sue Ryan, deputy county recorder, Fischer and Benson on July 13. Excerpted text follows below:
On June 1, acting city administrator Richard Carson sought guidance from Epstein on "how to deal with this development."
Epstein replied to Carson on June 2, concluding that based on the campground's existing nonconforming use and code provisions, "KOA cannot add the buildings to its nonconforming recreational vehicle campground. However, KOA can apply for a conditional use permit for its campground subject to planning commission review, and if approved, add the buildings as part of a conforming use."
On June 15, Benson applied for a building permit for two cabins. Carson did not sign off on the application.
According a follow-up copy of the June 15 building permit application, Benson paid a building permit application investigative fee of $304.40.
Continuing with Epstein's memo:
On June 29, Carson wrote Benson to advise him the existing land use permit authorized only 58 spaces. Benson was advised that he could file for a conditional use application for the 33 unauthorized spaces including the additional two cabins, noting that a temporary permit could be issued allowing him 60 days to complete the corrective CUP application.
Benson states that he did not receive this written document from Carson.
Continuing on from Epstein's memo:
On July 6, Benson applied for a temporary permit for the placement of two cabins. Benson made no application for conditional use for the other nonconforming structures.
On July 7, without further consultation with or the concurrence of Epstein, Carson signed off on a temporary permit for Benson's two cabins referencing CDC 8-6.148.020(H) as the code under which authorization was given.
Epstein stated in his memo, "In my opinion, CDC 8-6.148.020(H) does not authorize the city to grant a temporary permit for the two cabin structures."
Carson left employment with Cascade Locks later in the day on July 7 following the permit sign-off. He declined comment to the News on the KOA application process or his interactions with any city officials.
Fischer did not return multiple calls for comment.