Wednesday, August 31, 2011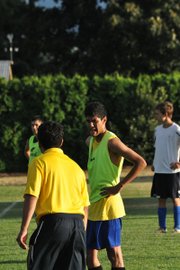 Around the state this week an annual rite of passage began: Daily Doubles.
It used to mean high school athletes showing up around dawn for one practice, going home; and then coming back later in the day to practice until dark.
However, for four of the six high school teams in Hood River, Daily Doubles have turned into Daily Long Singles.
"It's just easier to get everyone together once," HRV boys soccer coach Jaime Rivera said. "It creates an environment that is less stressful for everyone."
HRV Athletic Director Keith Bassham said in this economy its difficult for players and coaches alike to commit to morning and evening practices, particularly when so many have jobs outside of teaching.
"We have so many community coaches that you have people that have to make a living other than teaching and for them to come at two different times really disrupts their business," he said.
Not only do many of the high school coaches have other jobs, many of their athletes do, as well.
"We have kids that are working and who are trying to do things in the summer when they can to make money," Bassham said.
The logistics of trying to co-ordinate two practices, which either start or end during the typical work day, and get everyone on the field can be a challenge.
"A lot of my coaches have jobs," said HRV football coach Caleb Sperry. "So do a lot of the kids."
Getting all the players and coaches together for one lengthy evening practice is easier logistically.
It also helps to keep the athletes focused.
Instead of having them on the field early in the morning, sending them home in the middle of the day to eat and nap, and then bringing them back again, everyone is in the same place the whole time.
Sperry said that helps to eliminate wasted practice time of getting everyone ready to go again in the afternoon, and that the team can spend the time it would use for another warm-up to get in position practice or get ready for its first game.
Sperry said he first saw the long-single summer practice as an assistant coach at McKay High School, and brought it with him to Hood River.
Two programs in Hood River, the HRV volleyball team and the Horizon soccer team, are still doing daily doubles this fall.
Another, the HRV cross country team, doubles down on the whole concept so to speak. Instead of doing daily practices at the school, holds a three-day camp at Cloud Cap on Mount Hood.
The Hood River cheerleading squad has been doing full-day camps to prepare for its role this season.
Whether teams decide to doubles or singles practices, Bassham said it doesn't really matter. What is important is that coaches figure out what works best for their staff and for their players.
"The teams have to figure out what's best for them for their programs," Bassham said. "Each one has their own clientele that is very different."