Tuesday, December 6, 2011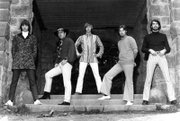 I'd like to start by saying "thank you" to the person or persons who left a certain book on the "Free" library book shelf a few weeks back.
I love browsing books, and when I saw it, I couldn't believe it.
It's a copy of the Rolling Stone Record Guide from 1979. And I want you to know that hardly a day goes by when I don't read a page or two.
You see, this book summarizes rock, folk, country, jazz and blues music for a 25 year period.
To me, having this book in my hands is like having the whole internet at my disposal. I can randomly flip through the pages, and viola, endless amounts of music information, album reviews, trivia and, ohh, the band names.
If it weren't for this book, I would never have known about the existence of bands like "Atomic Rooster," "Rare Bird," (yes, it's right above "Rare Earth,") or "The Golliwogs," which happened to be a predecessor of the Creedence Clearwater Revival band.
I suppose this proves that we all can learn something new everyday.
So imagine my surprise when an email floated in last week about a guy who's going to be at the Columbia Gorge Hotel this weekend. The email said that guitarist Robert Kalamasz was playing, and the only information they had about him was that he was the former guitarist for "Damnation of Adam Blessing."
I read the email again.
I looked at the bright orange cover to the Rolling Stone Album Guide on my desk.
I read that strange band name again.
Again, I looked at the bright orange cover to the Rolling Stone Guide.
It's time to put this book to the test - a real, live, honest to goodness test of musical knowledge in a real-life research situation.
I searched under "D."
I scanned under "A."
I even looked under "B" for anything close to "Blessing."
With a heavy sigh and a heavier burden on my heart, I put the indispensable tome of knowledge down on my desk.
To: Editors of Rolling Stone Album Guide
From: The desk of Jim Drake
Dear Sirs: It has come to my attention that you have inadvertently forgotten to list the band "Damnation of Adam Blessing" in your 1979 album guide. Frankly, this is bit surprising, since anyone with current internet access can see that this 1968 acid-rock band from Cleveland released at least four (4) albums on United Artists records and toured the Midwest opening for nationally known acts. Apparently the band had quite the local following and there's some evidence that one of their songs that was considered a "minor hit."
It certainly seems to me that a band of this nature, especially from this time period, should a least get a mention in your album guide, indifferent to how many stars their music deserves.
Maybe you could make room by taking out the "Atomic Rooster" listing.
Sincerely, Jim Drake
Rob Kalamasz will be at the Columbia Gorge Hotel Dec. 9-10 in the lounge.
Interview for Hood River News
1. Had it not been for an email from the Columbia Gorge Hotel, I don't think I would have ever have learned about your 1968 rock band from Ohio. Tell us what brings you to the Columbia River Gorge.
A couple of years back a very good friend of mine named Paul Robinson had contacted me, while I was playing down in Phoenix AZ, about stopping in Hood River to play at the Columbia Gorge Hotel. When I got back home in southeast Wash, we set a date and I came over here and had a great time. So now every time Paul thinks about it, I grab the chance to come and play.
2. Please describe what kind of show you're bringing to Hood River.
I've been doing an acoustic guitar and vocal thing for quite a few years and whenever the chance comes up to include another player or singer, it lends itself to more tunes. I get to do my take on all the songs that I've enjoyed through the years and just now I'm starting to include 1 or 2 originals.
3. Most of your band history seems to be documented on a website called "ugly things" - a site that is devoted to the underground music culture. There also seems to be a couple of You Tube videos, as well as some music collector items on e-Bay. Do you have a website?
No, unfortunately I can use a computer for recording and basic functions but have not pursued a website.
4. One blurb I found said that you guys used to open up for The James Gang back in Ohio. Wasn't Joe Walsh in that band?
Joe Walsh was in the James Gang and we did a number of shows around the midwest with them.
5. Do you still have your music gear from when you started playing music? (we've got lots of guitar players around here, they'd love to hear about old guitars and amps…..)
My Epiphone Riviera from that time period has been included in an exhibit at the Rock & Roll Hall of Fame for the last 11 years. So sadly I don't get to enjoy that one but I still have my '64 Stratocaster that I used on some recordings. Even though the (Fender) Twin Reverb amplifier has been buried long ago, I still have my pre-CBS (Fender) Deluxe. Since then I've added a number of other guitars to my room. Probably just like everyone else I would get a call for a job and I knew the type of guitar that would fit so I'd buy one and keep it for a future date. It's now getting crowded in here, lol!
6. Cleveland is of course now home to the Rock and Roll Hall of Fame. You guys were featured for a concert there. What was that like and how did it go?
That was a great time because some of us had not even talked to each other for about 23years, and all of a sudden you have to sit down and remember parts and songs from a different lifetime. The fuss that was created about the reunion was great fun and I think that about 2,200 people packed themselves into the Rock Hall. I remember our friend David Spero commenting that he had not expected that kind of a turnout and didn't hire enough security for the night, but all went well.
7. Who do you listen to nowadays? (who's on your iPod?)
I have to admit that guys like Tommy Emmanuel, Chet Atkins and Martin Tallstrom are great When I get the chance I have to marvel at early Wes Montgomery and others. You can't pass up Hendrix playing "Little Wing" or Eric Clapton, either.
8. What got you interested in playing guitar?
My parents gave my 2 brothers and I the choice to select an instrument to learn when we each turned 8years old. I saw I guy named "Jimmy" play the guitar on the "Mickey Mouse Club" television show and thought that would be great fun. I didn't know he played a tenor guitar (on that show) but the two extra strings on mine didn't even get in my way...lol!
9. What other bands/music projects have you been involved with since "Damnation of Adam Blessing"?
After we disbanded in 1972 or so, I got to play mandolin and guitar with other regional players. When that spun out, I ended up going down to Florida with my younger brother and worked in a small recording studio doing commercials - that was a change for me. Then I just started picking up gigs when they came by and ended up in Houston for a few years.
That's when I got drawn to the acoustic guitar which allowed me to travel and live in Vail Colo., for 3 seasons, Galveston Tx. for a while, Martha's Vineyard Mass., for 2 seasons, the Florida Keys and then back to Houston. My wife said maybe it's time to stop somewhere and we had visited the Northwest and that's where we are now. It seems I may have missed a few places in between...
10. How did you guys come up with that band name (Damnation of Adam Blessing) and what does it mean?
The "Damnation of Adam Blessing" is a paperback book that our front man (lead singer) Bill Constable decided on for his group which originally had 7 members. That large band must not have worked for him because the power trio that I was in got hired (for Constable's new band) and 5 of his guys got let go. The 3 of us - Ray Benich, Bill Schwark and I didn't even know his name wasn't "Adam" until we played the Village Gate music venue up in New York City a couple of years later. The author of the original book came to meet him at that gig. Bill even made his own mom call him Adam.
11. One source says that you guys had a "minor hit" with a song called "Back to the River." Is that still on your setlist?
"Back to the River" was a good song for us back then and as a "'quirk of fate" I just sent a digital remix of the song to a television production company in L.A. because it was chosen to be used in an upcoming documentary about a particular soldier in Viet Nam. I was told that since it's in production now, it'll take a year to finish and "air" on the 3-D Network. As for it being on my set list, I've been working on a duo lately and we've started taking a look at it as an "unplugged" version.
12. Anything else you'd like to tell Hood River?
You folks are sure living in a beautiful place and I hope to get to meet and talk with a few of you..
Well hope that helps, Bob Kalamasz