Wednesday, December 7, 2011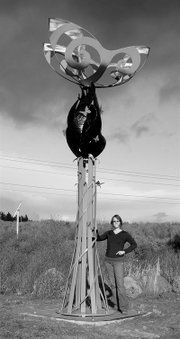 Glassometry Studios has unveiled a new sculpture on its grounds in celebration of its one-year anniversary in the Gorge.
The artwork, "Beginning of Wind" stands 18 feet tall and is constructed of powder-coated steel, copper and laminated glass. Laurel Marie Hagner, the artist and owner behind Glassometry Studios, designed the piece back in 2005.
"The sculpture is about our social and personal responsibility and ability to make change in the world," Hagner said.
While referencing the "Butterfly Effect" (that any small action can have a wide and long-lasting global effect) this piece shows a number of small butterflies encircling a large stalk that holds a flower/cocoon with a large 6-foot butterfly resting on it.
Hagner would like the sculpture to serve as a reminder that every little action amounts to many actions that amount to large action in the world.
"Make your choices. Love and respect life."
Hagner has built her dream studio, now located just outside Odell off Highway 35. The 8,700- square-foot facility houses a glassblowing shop, gallery, sculpture garden, kiln-forming and cold-working areas for large-scale architectural art and a metal shop for fabrication.
With a broad range in art and education, Hagner offers classes in many approaches as well as glassblowing workshops for holiday gift making and ornaments. Visitors can also see an array of "one-of-a-kind" blown glass in the gallery or design their own and have Hagner's team make it for them.
The gallery is open Wednesday through Sunday, 11 a.m. to 5 p.m. through December, and then by appointment.
The studio is on the web at www.Glassome-try.com.