Wednesday, December 14, 2011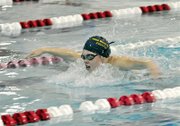 The HRV girls swim team finished first in nine events and beat the Centennial Eagles 112-58 in a non-league dual meet Thursday night at the Hood River aquatic center. The Centennial boys team meanwhile used its superior numbers to overwhelm a HRV boys team competing with two-time state qualifier Connor Webb, 123-41.
The Eagles mixed up their lineups in nearly every event, with coach Keith Ebbert wanting to get swimmers experience in different events. For the HRV boys that meant sending their A relay team to the blocks without Webb, who was competing in the junior national swimming championships.
"I'm not allowing the kids to swim their favorite events," Ebbert said. "But they are all doing it and are not giving me any problems about it."
Ebbert said he was impressed with the effort some of the newcomers have shown, particularly Nick Cooper, who powered his way through to the finish in the 100 butterfly.
"That was a tough 100 butterfly he did," he said.
The Eagle girls got wins from all three of their relay teams and individual victories from a pair of individual wins from Alyssa Walker and Taylor Tyynismaa, as well as victories by Kylie Webb and Kayla Schilling.
Ebbert said the team's conditioning is not quite where he would like it to be yet, largely because of the short practice surrounding Thanksgiving, but that he intends to use the winter break practices to pick things up.
"We are going to push hard over Christmas break," he said.
Results
HRV girls 112 Centennial 58
Centennial boys 123 HRV 41
200 medley relay girls
1 HRV A relay 2:20.63
3 HRV B relay 2:42.84
4 HRV C relay 3:47.47
200 medley relay boys
4 HRV A relay 2:31.06
5 HRV B relay 3:16.42
200 freestyle girls
1 Alyssa Walker 2:26.13
2 Roslyn Patrick 2:53.80
4 Kayla Schilling 2:32.58
200 freestyle boys
4 Thomas Tyynismaa 2:40.64
5 Maxx Kozec 2:57.19
200 IM Girls
1 Kylie Webb 2:41.66
3 Rebekah Galvez 3:09.97
5 Lilly Paul 3:23.10
200 IM Boys
1 Addison Redmond 2:46.30
4 Jacob Mears 2:52.42
50 free girls
1 Taylor Tyynismaa 29.42
2 Tori Grace 32.98
50 free boys
4 Willie Ishizaka 32.86
5 Austin Dalbey 40.56
100 fly girls
2 Danielle Miller 1:20.70
3 Erika Winner 1:30.29
4 Anika Engbersen 1:34.08
100 fly boys
4 Maxx Kozec 1:50.23
5 Nick Cooper 2:16.10
100 freestyle girls
1 Alyssa Walker 1:06.56
2 Kylie Webb 1:07.04
5 Lilly Paul 1:22.2
100 freestyle boys
4 Addison Redmond 1:07.03
5 Thomas Tyynismaa 5:14.51
6 Jacob Mears 1:11.68
500 freestyle girls
1 Taylor Tyynismaa 5:14.51
2 Danielle Miller 5:14.95
3 Rebekah Galvez 5:58.65
500 free boys
3 Carlos Galvez 5:52.88
4 Diego Ybarra 5:53.73
200 free relay girls
1 HRV A 2:08.16
3 HRV B 2:24.65
200 free relay boys
3 HRV A 2:06.06
5 HRV B 2:31.57
100 back girls
3 Erika Winnner 1:28.11
5 Susan Raulston 1:39.51 5
4 Roslyn Patrick 1:39.34
100 back boys
4 Carlos Galvez 1:30.20
5 Willie Ishizaka 1:51.02
6 Ben Dane 2:13.96
100 breast girls
1 Kayla Schilling 1:30.65
2 Anika Engbersen 1:32.97
4 Tori Grace 1:40.09
100 breast boys
3 Austin Dalbey 2:19.40
400 free relay girls
1 HRV A 4:53.70
4 HRV B 6:06.85
400 free relay boys
1 HRV A 3:01.55