Tuesday, February 1, 2011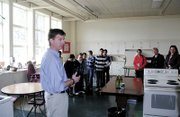 "Soup's on" will become a community call by this fall at Hood River Middle School.
A 1926 student kitchen will be transformed into a modern community kitchen starting this summer, thanks to local partnership and a major corporate grant.
Students at Hood River Middle School learned Tuesday in an assembly that Walmart Foundation State Giving Council gave a $35,000 grant toward a community kitchen at the school.
With childhood obesity, poor nutrition and hunger on the rise, the timing couldn't be better for a grant to build the community kitchen, according to officials with the Providence Hood River Memorial Hospital Foundation
The foundation and the school district are guiding the kitchen project, with the goal of helping improve health and nutrition for students and the community in general.
Preventing chronic illnesses and expanding the availability of a sustainable food supply in Hood River County are additional goals of creating the community kitchen. The new facility will be used for classes and workshops to help community members learn about health, nutrition, food conservation, and the culinary arts.
"This could not happen without a lot of leadership from the community," said Rena Whittaker, Foundation director, at Tuesday's assembly.
Tuesday's assembly honored the partnership between Providence Hood River, Hood River County School District, Gorge Grown Food Network, local kids and volunteers.
"We are proud to part of your community, and to be part of this effort for the community," said Robin Morse, Walmart store manager, in presenting an oversized check to HRMS principal Brent Emmons, Whittaker and other Providence officials, and Ann Kramer, Gorge Grown Founder.
In addition to serving part time as a learning kitchen for students, the Hood River community kitchen will allow residents to increase added value products with the use of the fresh, local food supply. Public access to the kitchen will help increase employment opportunities and support the sustainability of Hood River's agricultural industry.
The kitchen will tie into the student vegetable and herb garden established last year just outside the main school building. Students, under the guidance of science teacher Michael Becker and others, grow produce and sell it at Gorge Grown Farmers Market events, Thursdays during the spring, summer and fall.
"We're going to teach an entire community because of what you started here," Whittaker told the students Tuesday. "We are so lucky to be a part of this school district."
Becker and students led Providence and Walmart officials on a tour of the garden and the existing kitchen, the only certified training kitchen in the county. The building, on the National Registry, was constructed in 1926, and Becker said the look of the kitchen will be retained, but its operation will finally enter the 21st century
Starting this summer, with the help of the grant, the kitchen will be made more efficient and sustainable, with commercial-grade, low-energy appliances, a revamped work station layout, and energy-efficient heating and cooling system. Heat generated by the new refrigerators will be used to heat water, according to Becker.
Meanwhile, in the garden, students are about to plant 4,000 vegetable starts.
"There is going to be a verdant explosion out of here, an explosion of plant material and food, and information will also go flying out," Becker said.
Matti Havener, Walmart regional general manager for its stores in Oregon and Washington, said, "It is exciting to see how a local partnership between Walmart, its Foundation, Providence, local schools and nonprofits can help build a healthier future for residents of the Columbia Gorge. We are committed to supporting local programs with strong impact, such as the community kitchen in Hood River."
The grant is part of the Walmart Foundation's $2 billion cash and in-kind five-year commitment to help end hunger in America, which includes grants totaling $250 million to support hunger relief organizations at the national, state and local levels.
Whittaker said, "At Providence, our goal is to help build healthier communities and at the same time, healthy community partnerships.
"We couldn't do any of this work without our partners and donors. Together, we are able to make a difference," she said.