Tuesday, February 1, 2011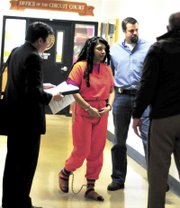 Marlene Zarate, front woman responsible for initiating the sequence of events leading to the Sept. 9, 2009 murder of Jerry Cranmer, spoke directly to Cranmer's family and friends for the first time in the Hood River County Court, Tuesday, Jan. 25.
Ochre colored walls, shuttered windows and graying acoustical tiles on the chamber walls provided a somber setting for the encounter, which took place during hearings for Zarate and Jairo Vicente, two of three suspects in the slaying of Cranmer, owner of the Vagabond Motel.
Zarate, changing her previous not guilty plea to guilty for a single count of murder and single count of robbery in the first degree, was sentenced by Judge Paul Crowley just before noon, while alleged trigger-man, Vicente, looked on awaiting his proceeding.
Twenty-three Cranmer family members and friends witnessed the proceeding along with numerous law enforcement officers from both Hood River City Police and the County Sheriff's office. Two individuals sat on the opposite benches, in support of the suspects.
Upon arrival, Zarate entered the chamber in bright prison garb, hand and leg restraints and long black hair carefully set in cascading ringlets. She kept her head held at an awkward tilt, avoiding the eyes of Cranmer's supporters as she walked to the defendant's table accompanied by her attorney, Benjamin Kim.
Vicente also entered the courtroom in orange garb and restraints, escorted by Sheriff Joe Wampler. He was seated, head hung down, in the jury box where his attorney, Gordon Mallon, joined him.
The proceeding began with Zarate offering guilty pleas to the robbery and murder charges with Crowley acknowledging an agreement made between the District Attorney's office and Zarate's attorneys.
According to the agreement, Zarate's convictions would result in an imposed sentence for the robbery, with the murder sentence to be held in abeyance pending her cooperation with the prosecution's case against Vicente.
For the robbery, Zarate was issued a sentence of 90 months incarceration, 36 months post-prison supervision and $3,600 in restitution to Cranmer's estate.
If Zarate fails to cooperate with the Vicente prosecution, her murder conviction will ensure a minimum sentence of incarceration for life with the possibility of parole after 25 years. If she cooperates, her murder sentence will be dismissed.
Zarate's plea, conviction and sentencing agreement matches that of Gloria Escoto, the third assailant in the case, who was convicted in December, 2010 and is now serving her 90 month incarceration.
Mary Gumm, friend of Cranmer and neighboring business owner, spoke at Zarate's proceeding on behalf of family and friends, sharing both anger and sorrow.
"I am angry today because an angel was taken from this earth - that's who Jerry Cranmer was to those of us here present today - an angel," Gumm said.
"I am angry that you (Zarate) have had so many chances to right this wrong … to work within the bounds of a just society," said Gumm. "Do I think that after eight years you will do anything different?"
Gumm also told Zarate, "Twenty-five years would serve society to protect them from your unconscionable acts."
Following Gumm's address, Crowley gave Zarate an opportunity to speak. Kim, Zarate's attorney, indicated that she would make no comment at that time, however Zarate spoke up quietly.
"I'm sorry," she said in a faint voice. "I'm so sorry," she repeated, while her head dropped forward with an audible intake of breath.
Following Zarate's words, the courtroom fell, immediately, both intensely silent and poignantly still. Judge Crowley, making notations on his docket, allowed the silence to continue for a full three minutes. Neither defendant looked up during the silence.
Crowley followed the silence by reviewing Zarate's understanding of the charges, pleas, conviction and sentencing before her. Sewell provided a summary (see sidebar) of the sequence of events surrounding the crime for which Zarate was now convicted. Zarate answered "yes" to each request for affirmation of understanding from Crowley.
Prior to her dismissal, Crowley offered two possible futures for Zarate to consider.
"I have seen people in prison focus on what they want their lives to be like when they get out. And, I've seen people wallow in the mire of their lives and come out worse than when they entered. The choice is yours."
Following Zarate's proceeding, Vicente's attorney Mallon, stated that Vicente and his defense team were not prepared to enter a plea at the hearing.
Along with Sewell and Oregon Department of Justice attorney, Scott Jackson, Mallon reviewed pending issues related to evidence sharing, necessary interim motions and scheduling which will affect future plea or trail dates for Vicente's case.
A follow-up court date of March 15 was set for Vicente and at that time the defense will enter a plea or the court will set a trial date.
If convicted on a murder charge, Vicente will face one of three penalties: death, life imprisonment without the possibility of parole, or life imprisonment with possibility of parole after 30 years.