Wednesday, February 2, 2011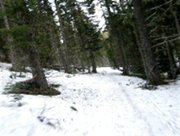 I almost didn't go in. I mean, here it was, the "last" day of operation of the infamous River City Saloon, and I'm standing outside – it's about 9:30 p.m., and it's packed. There's people everywhere. I'm debating, should I stay, or should I go. My partner Peny is with me, trying to coax me through the door.
Fortunately, my dear friend Kathy is also sitting outside. We haven't seen each other in weeks. She plays bass. She reminds me that we have a band, and should really play some music sometime. She reminds me why that's important. And she's right.
The cover is 8 bucks. (Jeeze, didn't I read somewhere that this whole week was free?) I sigh. It's for a good cause. There's a lot of people playing music tonight.
Fine, we're going in. It's potentially the last night. It's pretty well packed. I finally get a few beers. The stage is starting to happen. I'm listening to "Crazy Pete," thinking what an amazingly diverse place this community is.
I mean, check this out. Two hours ago, I was up at the HR Middle School for the concert at the fiddle contest. And right there, on stage, was, my most-favorite-all-time mando players, in the world. I've seen John Reishman's band, the Jaybirds, many times, and got to spend some time in workshops with him on a bluegrass cruise a few years ago.
And here he is, jamming with guitarist John Miller, on a nice set of world-jazz-folk music.
Unbelievable.
Crazy Pete is into his third or fourth Bob Dylan Song. I'm pretty sure that Pete only covers Bob. It's kind of the thing he does. And, I must say, that since I've been on my "Laugh More Tour" this year, Pete's comedy ranks up there with some of the stuff I've been seeing, really. I'm sure there's a lot of stages out there that would appreciate what he does.
I laugh to myself – I think Pete has played with just about everybody in the Gorge. I remember my band playing at the Trillium a few years ago, and I think we've had more than one Pete Experiences.
OK, where was I? Oh yeah, the last night, and all that. Yes, the next set, from 4 on the Floor rocked. You've got to hand it to these guys, for playing under some stressful conditions. I mean, it's so loud, just from the audience, that if you stand more than 10 feet from the stage, you can hardly hear anything. You've got to be right up near the stage, to appreciate it.
And I did appreciate it. And you know what, I lot of other people did, too. Some folks, were so appreciative, and emotionally moved by the fact that this was, by all accounts, the last time the River City would actually "Be" the River City, that they wanted to tell their story, in their own words.
That's what Gorge resident Jodi Bergstrom did. Out of the blue, she emailed me and said she'd like to write about it. She called the last day at River City a "transitional moment that needs to be recorded for posterity."
How can you say no?
P.S. I made it till midnight. Which, I'd say, is pretty good, for us old folks? I got word from our reporter, Adam Lapierre, that he made it till 2 a.m. And that he heard that the last person may have been told to go home around 4 a.m. I just hope they called a cab.
Interview with Jodi Bergstrom
River City Saloon's Swan Song
Everybody and their dog were at the River City on Friday night. All the regulars had heard that this was our last night, and we all turned out to drink, dance, speculate and complain. "Back in the day, on a Friday or Saturday night, this was the place to go, there was nowhere else," said one woman, adding emphatically, "I met my husband here!"
The night began earlier than usual when people began to trickle in. The excitement was palpable. It wasn't long before the tables and barstools were full, and no one seemed to mind that it was standing room only.
"I was here when Bob first bought the place. We pulled up carpet to have these wood floors," reminisced one patron.
Tonight, though, the floors were not even visible, with so many people milling about, talking loudly, enjoying their beverages, and listening to the opening act. It was Four on the Floor, an edgy bluegrass band from Portland, with a unique sound that even included a two-string washtub bass. Their intensity brought an even higher energy level to the place.
Their first set lasted only a few songs, and it left us wanting more. By the time they were done, both the beer and the sweat were pouring. I felt for the bartenders, as it seemed that there was no way they could keep up with this crowd. This was the most people I had ever seen at the RCS, and others echoed my observation, which was surpassed only by the oft heard "I can't believe they are closing!"
Next on the stage was Crazy Pete, a favorite local opening act. He had the crowd whipped up into a near frenzy. It was just him and his guitar and more personality than could fit into this small venue. The dance floor had already filled to overflowing, and he kept the crowd involved, laughing, and grooving. With or without his shirt, Crazy Pete has his audience in the palm of his hand.
The Quick and Easy Boys from Portland had an excited, sweaty, not-nearly-done crowd anticipating the dynamic show they knew would be offered, and we were not disappointed. We were treated to high powered, funky, danceable tunes in a long set that eventually had Crazy Pete joining them on stage, still shirtless, along with Shawn Robarts, River City's longtime manager, sporting the head of a mascot-like bear costume. The band now shirtless, Crazy Pete in only his cutoffs, and the dancing bear had the crowd thrilled and exuberant.
The overall excitement of the night was certainly overshadowed by the realization that tonight really was the last night of the River City Saloon as we have known it. The ceiling had already been repainted, the first sign of changes to come. The huge number of people, the amazing vibe, the seemingly unending night…it was all the more passionate because we didn't want it to end.
I spoke to a woman in her 70s, who lamented the closure with the rest of us as she recalled her visits here over the past decades. Someone reassured her that it will reopen, but her reply spoke for all of our worries tonight when she said, "Well, it won't be like this!"
I heard from several folks, young and old, about their wariness of the change, their regret at losing this place they know and love, and their fond memories of a long time staple of the Hood River nightlife. I, too, am sad at the loss of my favorite neighborhood bar. Yet I and others have high expectations for its new incarnation, and for me the change serves as inspiration, as I hope to soon expand my horizons by getting to know some of the many other well loved places, new and old, in my beloved hometown of Hood River.
Even the dog present that night, a golden retriever I think, wandered through the throng and seemed to have a good time. I am not sure where he will hang out now.
Jodi L. Bergstrom
http://www.myspace.com/4onthefloorsb
http://www.myspace.com/thequickandeasyboys