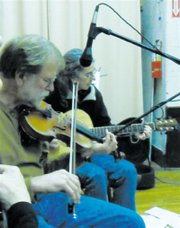 It's a good thing the 2-drawer file cabinet that holds all of the old entertainment files is made of some pretty hefty steel. Otherwise, it would probably collapse on itself, like a black hole, and disappear.
That's because one single photo, in itself, doesn't weight that much. But, for some reason, when you combine several hundred photos, press releases, and add in the ubiquitous manila folders – and then jam all of that into one compact space, the density increases exponentially, creating a lot more weight than just the sum of the parts.
But the important thing is that we still have those files. I'm glad about that, anyway. It just goes to show, that once in a while, those files still come in handy.
Take the Mother Hips, for example. When I heard they were coming, the band name kind of rang a bell. So, just for the heck of it, I decided to take a look in the ol' file cabinet. And sure enough, right around "McNarley's Rant" and "The Motet," was The Mother Hips.
The Hips have been around since the early '90s, and they're still at it. Granted, they haven't been through The Gorge in quite some time – when I dusted off their file, it seems the latest paperwork we had was from 1999.
And speaking of dust, it just so happens the latest release from The Hips is, in fact, named "Pacific Dust." The band was kind enough to send in an advance copy, too.
And it's really good. Solid songwriting, a great mix of tunes. The songs touch on everything from rock, blues, funk, and lyrically clever pop songs. Definitely worth checking out.
The title cut seems to be about being lost in a fog, searching for direction and not knowing exactly where you are. The song appropriately ends with a good freak-out effect pedal guitar solo.
Which is the perfect soundtrack for digging out dusty files desperately in need of updating.
Come to think about it, I wouldn't be surprised if the dust they're singing about is the same dust I found in their file.
We'll just have to go listen, and find out, won't we?
The Mother Hips will be at the River City Saloon on Saturday, Nov. 7.
Interview with the Mother Hips:
1. Greetings from Hood River, Oregon! Well, it took a bit of digging around, but buried in our "Where Are They Now Files" I found a Mother Hips folder, so you guys must have played here in the past. Do the names "Northshore Bar & Grill" or "River City Saloon" bring back any memories, and what's the connection between the band and the Columbia River Gorge?
We have played in Hood River, at the saloon, many times. It is always a blast. Gumby is always really nice to us. And the local folk know how to rock (and cook!).
We played on the other side of the river one time about 10 years ago. I seem to remember lodging at a Boy Scout facility that night?
2. Your people sent my people an advance copy of "Pacific Dust." It's really great stuff. How much of the new album can we expect to hear in your set, and what do you do to keep things interesting on-stage for yourselves musically?
We will probably play quite a bit from Pacific Dust on Saturday night. I would bank on at least half of the album.
We keep things interesting on stage by trying to make each other laugh (or cry) with non-typical musical sound events. I also like to try to count the strings on Paul's white bass.
3. The Mother Hips have been called everything from a 'hippie jam band' to "the greatest rock n roll band in America." Exactly what has the Hips evolved into since you started back in 1991?
If I knew that I would be a rock journalist.
4. What's the songwriting process like? Is it words first or music first?
For me, it is usually music first. I create chords and melodies to go over the chords. If I do not have a specific idea to write about, then I start making up words or sounds to carry the melody. Sometimes a made-up phrase will be the impetus for a whole song plot.
5. I read some interview stuff on your website from a few years ago (2006) and Tim said "There's something that prevents me from enjoying music that is really hyped or really popular." I'd like to know what that "something" is, because I think I've got that "thing" too. But I really don't think it's a bad thing. Could it be the sheer volume of "new-must-have band CDs" that come out every single month, and you don't even know where to begin? I mean, how much of your income is one supposed to devote to listening to new music?
That would be a question for Timmer. I used to be afraid to listen to new music but I conquered my fear a while back.
6. Since we have a lot of musicians here in The Gorge, let's talk a little about your music gear. Describe some of the guitars/amps/effects used to make "Pacific Dust."
I used my Fender Telecaster on most of my guitar tracks. I also used my 1967 Epiphone Casino with one P-90 pick up.
For amps I used Jackie's 1964 Fender Super Reverb. (Which is just like the one I use live) and I played through a really great sounding Deluxe Reverb that they have at Mission Bells studio.
For pedals, I used my Union Jack fuzz pedal (the one that Paul bought me. Thanks Paul!) quite a bit. I used my 1969 echoplex tape machine. I also used an Eectric Mistress on "Are You Free" to get the spidery, leslie effect.
7. Some of your press material says you guys toured with Mr. Cash. What year was that, where did you play, how did you get the gig, and what was that experience like?
We played one show with him at The Fillmore in SF in 1996. It was amazing. He was a total gentleman. My mom was at the show and she got to meet him. He kissed her on her cheek and she almost collapsed; it was special.