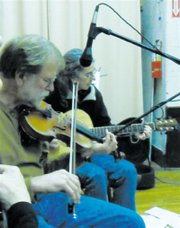 Country Dance Feb. 12
The Second Saturday Country Dance happens Feb. 12, from 7-10 p.m. at the Rockford Grange. The caller will be Sue Baker and the band will be the Mill Creek String Band. Dance lessons will begin at 7 p.m. All ages welcome. No partner required and this is a family-friendly event. All dances walked through first time. Enjoy an evening of country squares, contras, circle dances and a few waltzes. $6 for members, $7 for non-members, $1 for youth 16 and under. Please bring snack treats for break time. Call Keith Harding at 541-352-7550 or Tom Hons at 541-386-5771 for further information.
Green Drinks meet Feb. 10
Gorge Owned Business Network and the Columbia Gorge Earth Center welcome all Gorge residents to The Sunshine Mill in The Dalles on Thursday, Feb. 10, from 6-8 p.m. for a solar-focused Green Drinks meeting.Whether you are a solar contractor or a citizen/business interested in installing solar, join Green Drinks to learn about the state and federal incentives available to homeowners and businesses. A representative from Solar Oregon will lead the discussion about solar-related laws in the upcoming legislative session, hear from local solar installers, and learn about the Renewable Energy Technology program at Columbia Gorge Community College. Learn about the renovation of the historic Sunshine Mill into one of The Dalles finest local eateries. The Gorge Owned Business Network asks for a $5 donation.
Johnsmith at The Mint Feb.18
Singer-songwriter Johnsmith (yes, it's all one name) will be playing a benefit concert on Friday, Feb. 18, at The Mint in The Dalles. Music starts at 7 p.m., and proceeds go to Providence Home Services. "Each of John's albums to date including "Gravity of Grace," seek to explore and develop his unique vision as a wordsmith and his undeniable talent as a musician." Get tickets at Columbia River Music in The Dalles.
LunaFest screens Feb. 23-24
The 10th annual LunaFest: Short Films By, For, About Women is coming to the Columbia Center for the Arts on Feb. 23 and 24. Showings are scheduled for 6 p.m. and 8:15 p.m. each day, with pre-show wine events at 5:30 p.m. and 7:45 p.m. Tickets are available at Waucoma Bookstore. This unique film festival highlights women as leaders in society, illustrated through nine short films by women filmmakers. The films range from animation to fictional drama, and cover topics such as women's health, motherhood, body image, aging, cultural diversity and breaking barriers.