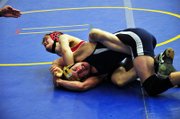 Robert Frasier continued his strong season by winning the 145-pound championship at the Hood River Elks Memorial tournament in Hood River Saturday.
Frasier won both of his contested matches by fall in under two minutes. He won his first match in 1:53 over Mitch Brundridge of Silverton, got a forfeit win in the semifinals and then beat David Tena of Churchill in 54 seconds in the finals.
The Eagles took fourth as a team, finishing behind fellow 5A top 10 ranked teams Churchill, Pendleton and Lebanon. Overall, 15 teams competed in the tournament.
Aldo Lara took second place for HRV at 119 pounds. He beat Dylan Beneat of Churchill 13-0 and Jacob Fowler of Tillamook by a fall in 1:33 before Dylan Holcomb of Pendleton defeated him 4-1 in the finals.
David Brunk at 130 pounds also took second for the Eagles. Brunk rolled through his first two matches, getting a technical fall win over Cameron Salvitelli of Barlow 17-1 and David Nunez of The Dalles-Wahtonka 16-0 before being topped by Max Thomas of Churchill 6-3 in the finals.
Alex Ayala took fourth at 135 pounds. After being beaten by eventual champ Joe Potts of Churchill in the quarterfinals, he defeated Mason Harvey of Barlow by fall in 2:34 in the consolation semifinals before losing 7-2 to Tamen Privratsky of Lebenon in the consolation finals.
Jordy Mallon took third at 160 pounds, finding himself on the right end and wrong end of one-point decisions in the championship bracket.
Mallon first beat Bella Mandi-Casas of Reynolds 14-5 in the first round, then squeezed past Wayne Fitzpatrick of Pendleton 16-15 in the second round. However, in the semifinals he lost 16-15 to Francisco Toledo 16-15. In the consolation bracket he defeated Jae Hellig of Reynolds by fall in 2:12 and then topped Austin Allen of Barlow 10-8 in the consolation finals.
Francisco Castro took third at 171 pounds, beating two TDW wrestlers to get there. He took down Jake Murray by fall in the first round, beat Jacob Childs of Barlow in the second round and then fell to Tance Privratsky of Lebanon. He defeated Alex Ortiz by fall in the consolation bracket and then pinned Hunter Woods of TDW in 1:13 in the consolation finals.