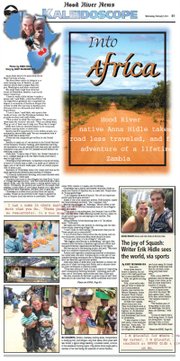 Anna Hidle lives 9,700 miles from Hood River but feels at home.
The Hood River native is living in a remote farming area of Zambia, an east African nation that is larger than Oregon, Washington and Idaho combined.
She must walk a half hour from her house in Chisebwya, Zambia, to get an Internet connection.
"I have to walk a little farther to make a phone call," said Hidle, a 2004 Hood River Valley High School graduate who completed her degree in economics at Southern Oregon University in 2009. She has been in Zambia since February 2010 on a 26-month stint with the Peace Corps.
"I love it there," said Hidle, who spent a few weeks at home over the Christmas holidays. Her parents are Gary and Leslie Hidle.
"This is what is called 'the real Africa.' The people are what make the country," she said. "They are always kind. They go out of their way to help you. They like to laugh."
Hidle lives with an extended family in its compound, without running water or electricity.
Zambia has 9.8 computers for every million people, in a community where Hidle said "You are considered rich if your home has a metal roof."
(There are 762 computers per million in the United States.)
Zambia is 162nd out of 169 nations in the United Nations' Gross Domestic Product ranking, with Zambians earning the equivalent of $1,020 annually (less than $100 per month) compared to $41,889 in the U.S. (ranked second behind Luxembourg, at $60,022).
Hidle said, "It was a leap of faith, but I knew I wanted to do it. I always wanted to do the Peace Corps, ever since I was in high school."
Chisebwya (chee-SEB-wah), in Zambia's central province, is more of a locale than a town; it is made up of several villages, one or two hours' walk apart, with an overall population of about 5,000.
Residents of Chisebwya raise corn, beans and nuts as the main agricultural products and sources of revenue.
"It's mostly subsistence farming, with some farmers with small holdings," Hidle said.
Chickens run loose in the villages, but they form "a sort of village savings account," and the locals know who owns which birds, and the birds seem to know which home is theirs. Ultimately, the poultry are used for the staple dish nshima, a dish made of corn paste formed into tight balls and served with vegetables, chicken, fish or goat meat.
Chisebwya is a seven-hour journey from the capital, Lusaka. Travel on the province's dirt roads is mainly by foot or bicycle; local bus service is unreliable. The rare times Hidle travels to Lusaka, she hitchhikes.
Chisebwya has a school and several churches (Hidle attends the Church of Zambia) but no town hall. People meet in "house gatherings."
"It all happens by word-of-mouth. You tell an important person and word gets around."
Asked if she is an important person, Hidle paused, tipped her head sideways and said, "yes, I suppose I am."
Mainly she is known as "mizungu," which refers to her skin color. She is the first Caucasian most of the villagers have ever seen.
"They stare at me sometimes, just because I am so different. One day when I was cleaning outside my hut I saw a little girl pointing at me and saying to her mother, 'She sweeps funny.'"
Being different is less daunting than it is "an adjustment," Hidle said.
She spent her first two months in training, and the next three simply observing village life.
"I can't come in there saying 'I know more than you do.' These people are so resourceful."
It is a critical Peace Corps ethos that the locals, and not the volunteers, determine what work should be done.
"It's not your idea; it's the village's," she said.
"My biggest contribution is networking," she said. She connects with farmers, a Zambian agriculture officer and non-governmental organizations working in the region.
She has started a bee-keeping project and said, "My main hope is to improve community composting."
Animal and vegetable composting material is abundant, but underused, she said. Composting is a vital part of sustainable farming techniques she is helping develop along with the Zambian agricultural worker.
Hidle also plans to work with local farmers to reduce the practice of slash burning their fields, and to educate them on other techniques to improve yields.
"They have plenty of land; it's just a matter of improving their conservation farming methods," including more efficient use of fertilizers, insecticides and lime, Hidle said.
She also counsels the farmers to grow crops on half their land and let the other half rest, which combined with other conservation practices will make all the land more productive.
Another long-term project is to establish a seed bank in which the local farmers provide themselves a sustainable source of growing material.
"It's a matter of education, helping them become better planners, so they don't find themselves in the hunger season with little or no food," Hidle said. "They need to get out of the cycle of selling their products and then buying them back at a higher price in another season."
Whatever her work, Hidle recalls the lessons of home.
"I can't imagine doing what I am doing without the incredible support of people in Hood River, particularly my church family," said Hidle, who attends Hood River Valley Christian Church.
"I've learned much more here than I've taught," she said.
Chisebwya may be poor, but Hidle said it is hard to call it a place of poverty.
"There is plenty of love, and people are looking after each other. They look after me, too."