Wednesday, February 9, 2011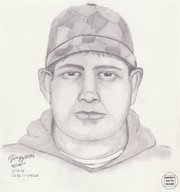 Update 3:45 p.m. 2/9: Authorities have released a composite sketch of the suspect in the attempted abuction in Odell Sunday. At the time of the abduction attempt the suspect was driving a light car with blue racing stripe.
An attempted abduction of a seven year old girl occurred on Sunday, Feb. 6, just before 6 p.m., while the girl was playing outside her residence in the Odell area.
According to Hood River County Sherriff's Detective Matt English, a white male, between 20 and 30 years old at approximately six feet tall, approached the girl. He tried to entice her to accompany him. When she refused, the suspect attempted to physically take the girl from her yard. The victim reported that he grabbed her arm.
The girl was able to alert her mother, who came outside to investigate. Her arrival caused the suspect to flee the area.
"We are working with a composite artist from Clackamas County," said English. When a drawing is produced from the victim's description, it will be released to the public.
The suspect left in a small passenger car described as light in color with a blue racing strip on the hood. The suspect is described as wearing a yellow shirt, blue hooded sweatshirt, blue jeans with holes in the knees and a camouflage stocking hat.
"Sheriff's deputies began investigating immediately following the incident. We are working with regional investigators and have provided information to additional law enforcement agencies," said English.
Hood River County Schools were notified of the incident and sent home information to all district elementary school children via written flyers. HRVHS posted the notice on their homepage and alerted staff via emails.
The sheriff's office has set up a community tip line and is asking that anyone with information report it. The sheriff's office tip line can be reached at 541-387-7077.
"We want to assure that public that these incidents of stranger abduction are rare," said English, "but, we also want people to know that they should call us if they see suspicious people in their area."
English also offered a reminder to concerned parents. "Be vigilant about knowing where your children are and educate your children about how to protect themselves if they are approached."