Wednesday, February 9, 2011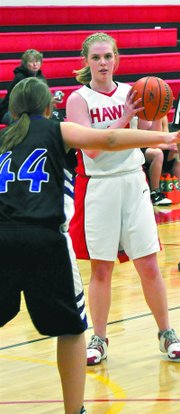 It's been a tough season, a growing season, for the Horizon Christian Hawks this year.
On Tuesday they got a win over a team that's had an even tougher season.
The Hawks beat a 0-16 Central Christian team that has been forced to play every game on the road this year, by a 51-21 margin. It was the Hawks' fourth win this year, and their second over the Tigers.
"It was a good confidence game for us," Horizon coach Stan Perkins said.
The Tigers kept it close through the first quarter, but the Hawks used a 20-3 run in the second quarter to take the game in hand.
Perkins saw continued development from his team during the game, particularly from posts McKenzie Mellow and Katie Tolbert. Mellow had 11 rebounds and six points, while Tolbert and M'Randa Aldrich each scored 14 points to lead all scorers.
With the exception of Dominique Figueroa, who didn't attempt a field goal and played limited minutes, every Horizon player scored in the win.
"We've grown a lot since the beginning of the season," Aldrich said. "Just the press break in and of itself; at the start of the year we could not break a press."
The Hawks have four tough games remaining on their schedule, including 15-3 Dufur at home Saturday, and they want to play well and get a head start on summer league and next year, when they will return virtually the entire team.
"We'd like to win a game or two but we want to grow closer as a team," Aldrich said. "I think I'd be even happy if we can grow closer."
• In the boys game, Horizon Christian also ran roughshod over the Tigers, winning 58-16. The Hawks led wire-to-wire and held Central Christian scoreless in the third quarter and outscored them 29-2 between the second and third quarters.
With the outcome never in doubt after the first quarter numerous Hawk starters played reduced minutes and roles.
Sam Anthony led all scorers with 16 points and also grabbed eight rebounds. Johannes Decker added 11 points for Horizon.
Matt Totaro was back in action four days after suffering a bloody head injury against Sherman last Friday and scored eight points while playing much of the game.
Both Horizon teams were scheduled to be at Condon-Wheeler Friday before hosting Dufur today.