Wednesday, February 9, 2011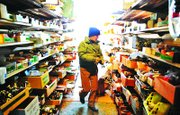 In an effort to reduce building waste and find new homes for perfectly good stuff, Gorge Rebuild-it Center has a wide variety of reusable materials otherwise bound for landfills, burn piles or cluttered garages. The large pole building on Tucker Road next to Bryant Pipe and Supply is literally overflowing with home-improvement items; from light fixtures, doors, windows, furniture and blinds to raw lumber, pipes and fittings of all sorts and, yes, even kitchen sinks.
Summer is their busiest time, but staff at the center is on hand five days a week to help you find exactly what you're looking for or to take in tax-deductible donations.
THE BASICS:
• Open 9-5, Tuesday though Saturday n 995 Tucker Road n Takes in and sells used a variety of used materials.
• Donations to center are tax-deductible
• www.rebuildit.org, 541-387-4387