Wednesday, February 16, 2011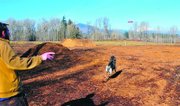 A newly minted green and white sign on Barrett Drive, just west of the intersection with Alameda, announces a long-awaited addition to the public park resource base for the community.
But, be careful - the sign and the recent dramatic removal of the 30-plus-acre orchard at the site have started a swirl of rumors.
"We have no specific plans for the parcel beyond the already approved conditional use allowing an extension of the Indian Creek Trail," said Lori Stirn, Hood River Parks and Recreation Special District director.
In fact, parks district staff members are hoping to get a lot of public input on the potential use of the property before doing much more than grading and grass seeding.
Addressing one of the biggest potential rumors, Stirn responded to the question of whether ball fields will be placed on the property.
"Adding new ball fields has always been a part of the master plan for the district," said Stirn, "but the Barrett property has an approved conditional use permit which allows only passive recreation. Ball fields are not considered passive recreation at this time."
As to whether ball fields might be added in the future, Stirn clarified the current status of that possibility.
"We do not have the money to try to proceed through an exception process on the conditional use," she said. "We estimate that would cost close to $100,000 and would not guarantee that ball fields would become an allowable use, even after expending those funds. We don't think this is a wise use of limited dollars."
Ball fields aside, the parks district has a goal to find good public uses allowable under the current restrictions. Stirn noted that playgrounds, walking and biking paths, community gardens and radio-controlled toy zones are all currently allowable "passive recreation" possibilities.
Accessory park elements such as restrooms, parking lots, storage buildings and access points are most likely included as allowable under current law, but are also still being reviewed by parks staff, the Oregon Department of State Lands and the Department of Land Conservation and Development.
Although funding is not yet in hand to develop any of the possible uses for the land, Stirn provided a summary of actions now underway and background on those actions.
Land clearing: Under the acquisition grant obtained to aid in the purchase of the property Stirn noted, "We were required to remove the orchard to meet their guidelines."
Some basic grading and grass seeding will be taking place into early summer.
Open to the public: Likewise, in order to fulfill those grant funding guidelines, the property is now technically open to the public - although it would be wise to bring your mud-wading boots. Usability should increase by early summer.
Trail in process: In order to complete the approved new planned portion of Indian Creek trail (to run along the northern border of the site), parks staff must secure the cooperation of two neighboring property owners.
If successful in creating the continuity through neighboring properties, the trail path will be graded and seeded with grass, and will include some graveled areas where standing water may be an issue. Additional bank stabilization must also be done. The related easement negotiations are still under way.
Neighbor property demarcations: Areas where the parks property abuts or encircles neighboring property are now being demarcated through a combination of fencing and plantings. Individual property owners have been negotiating out preferences directly with parks representatives.
Planning and participation: The original master plan for the parks district was created in 1998 and updated in 2005. With decisions needing to be made on the Barrett property, Stirn hopes that planned public meetings in early May will result in both an updated master plan and specific plans for the Barrett property. Public participation is essential.
Comment period now open: If you can't wait to participate in the planned master plan public meetings, you are encouraged to send questions, comments and concerns directly to Stirn, other parks district staff or board members at any time.
The public may also attend any of the regularly scheduled meetings on the third Wednesday of every month at 7 p.m. at the Hood River Aquatic Center (unless otherwise noted).
Comments may be directed to the parks district e-mail at Parksandrec@gorge.net or to the street address at: 1601 May Ave., Hood River, 97031. Future master planning meetings will be announced to the public.