Thursday, February 17, 2011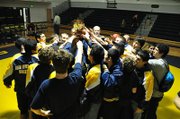 The Hood River Valley wrestling team hammered The Dalles-Wahtonka Thursday night, to extend its dominance in the River Clash Cup and lock up second place in the Columbia River Conference standings.
Wrestling with numerous competitors not typically in their starting lineup, the Eagles dominated the Eagle-Indians throughout the night and won 51-9 at Vannet Court.
"The guys who wrestled tonight put themselves in a position to wrestle tonight," said HRV coach Trent Kroll after several wrestlers were suspended for being academically ineligible.
Most of those who did wrestle had no problem with their TDW opponents. Of the nine contested matches HRV won, six were won by either fall, technical fall or major decision.
David Brunk ran his team-best individual record to 36-5 by getting a 12-2 major decision win at 130 pounds over David Nunez.
Brunk got off to a 7-1 lead in the first round, and after neither wrestler scored in the second round, added three near-fall and two takedown points in the third round.
The series of five matches from 140-171 pounds, all won by HRV, was also particularly impressive for the Eagles.
At 140 pounds, Alex Ayala was all over TDW's John Ford, taking a 9-1 lead in the first round, and then piling on in the third round with five points before Ford got an escape, and then adding two takedown and two near-fall for the tech fall win.
At 145, Josh Grosserhode took a 4-1 lead in the first round and then got a reversal that led to a fall midway through the second round to win in 2:52.
Kelby Broddie and TDW's Dalton Rumbolz provided the evening's most thrilling match at 152 pounds. Seconds after the opening whistle, Broddie picked up Rumbolz and threw him to the ground for two takedown points, but the Eagle-Indian wrestler bounced back with two reversal points.
Broddie eventually went up 6-4 on two reversal points with 56 seconds left in the match. However, he was then called for an illegal hold with 26 seconds left to give a point to Rumbolz.
The two wrestlers then locked up and Rumbolz waited until the final seconds to make his move, slipping from Broddie's grasp with three seconds left to earn an escape and force overtime.
A determined Broddie made quick work of Rumbolz in overtime, though. Broddie went for a takedown seconds into overtime, only to have Rumbolz nearly reverse it. Broddie quickly countered and took down Rumbolz for the two points needed to win the match.
At 160 pounds, Jordy Mallon thrashed Zach Mazeski with an 18-1 tech fall and Francisco Castro followed that up with an 11-3 victory over Hunter Woods at 171 pounds, his second win in two weeks over the TDW returning state qualifier.
Juan Karlos Hernandez earned a 5-2 win over Tikio Regaldo at 215 pounds, getting a pair of takedown points at the buzzer to secure the win.
Brandon Dominguez pinned Gabe Wilson at 275 pounds just before the end of the first round when he threw Wilson to his back to win in 1:55.
After Fidel Acosta won a 9-4 decision over Daniel Madrigal at 112 pounds, freshman Juan Rojas finished the night off in style for the Eagles by physically dominating Mason Bench at 119 pounds before pinning him at the 3:39 mark.
"Was it bad of me to hope that we would get to 50 and that Junior (Rojas) would pin him?" Kroll said with a grin after the match.
The match marked the fourth consecutive time the Eagles will get to maintain possession of the River Clash Cup.
The Eagles will now continue to hit the mats hard for the next week to prepare for their district qualifier meet with the PIL and CRC teams at Benson High School in Portland.