Wednesday, February 23, 2011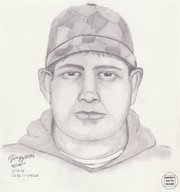 According to Hood River Sheriff Detective Matt English, the 20-30-year-old, white male suspect remains at large on the Feb. 6 attempted child abduction in Odell.
The vehicle involved was a small passenger car light in color bearing a blue racing stripe.
"There is nothing to new report at this time," said English; however, the tip hotline has continued to receive multiple calls and reports. English could not give details on the reports but did confirm they are coming from a wide geographic range.
The anonymous report phone number is: 541-387-7077.
• A Hood River based private self-defense training company is offering upcoming classes for women as well as a "Mommy and Me" self defense course, according to Michael Martin, BDT training instructor.
"It's never too early to teach our kids how to identify a danger and how to react to it," he wrote on the Best Defense Training Facebook page. "We train both mom and child what to do, so they can continue to work on it at home.
"It's a three-hour course for parents and school-age children," Martin wrote. The cost is $25/duo and $5/additional child. Here are the details:
Mommy and Me class -March 12, noon to 3 p.m. See the company website for more information.
• Women's basic self-defense class - Feb. 26, noon to 3 p.m. at HRVHS. Cost is $25 for adults and $15 for 14- to 17-year-olds.
Additional class information may be found at: http://www.bestdefensetraining.biz/default.html