Wednesday, February 23, 2011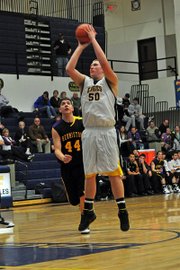 It was not the way any senior wants to wrap up his or her career.
Not a 36-point loss; not with the opponent putting in the players from the end of its bench for most of the fourth quarter and not a team meeting afterward.
The Hood River Valley Eagles had barely finished honoring their senior class in their regular season home finale before the onslaught started from Hermiston Tuesday. By the end of the first quarter the Bulldogs led by 20. In the second half they led by as much as 40, and it finished with an 83-47 final score.
After the drubbing finished, the Eagles first gathered in their locker room for a team meeting, and HRV coach Zach Pauls met with the senior group for even longer.
After the meeting with the seniors Pauls had to take a long pause before trying to get at the core of what has gone wrong for the HRV boys basketball program.
"We don't have…" Pauls said as he tried to figure what to say next. "We don't have the basketball experience that a lot of other teams have."
The Eagles have won twice this season, 12 times in the past five years, and were winless in league play in the Columbia River Conference heading into their regular season finale at The Dalles-Wahtonka Friday.
Despite all that, thanks to the new playoff system, they will have a chance to play for a state playoff spot. The Eagles will host St. Helens Tuesday.
The winner of that game would play at 13-1 Benson, the No. 1 team in the PIL, for a state playoff spot.
St. Helens is the bottom team (No. 37) in the OSAA power rankings. The Lions, the No.8 team in the Northwest Oregon conference, have been so bad against a weak schedule that even 0-20 Lebanon is two spots above them in the rankings. HRV is ranked No. 34.
The game will be on HRV's home floor and they view it as a chance to send the seniors out on a high note after a long, tough season.
"It would be awesome to win a playoff game," said senior Chris Dirks. "We match up well with them. We just need to stay focused."
After the whole team met in the locker room, Pauls pulled seniors Seth Fults, Dalton Frazier, Josh Clark, Calvin Ames, Antonio Perez, Nick Guthrie and Dirks into his office.
"To a T they all agreed that winning a playoff game would make the season better," Pauls said. "Not save it, but at least make it better."
On Jan. 7 the Eagles lost to Hermiston 47-40 and on Jan .14 they lost to The Dalles 78-68.
Since then they have not finished within 15 points of any of their league opponents.
Pauls said that with so many other options in Hood River, it's hard to get organized basketball going into the offseason, and to put in the fundamental work that make programs successful.
"We're an awkward-sized community that's away from a lot of basketball opportunities," Pauls said. "We're kind of caught in the middle and it's hard to get kids to play basketball when it's not organized."
He praised his group of seniors for hanging with the team through four hard years, particularly Dirks.
"You can't find a better leader than Chris," he said.
The Eagles have spent the last several weeks searching for a consistent scoring outlet to pair with Dirks and they may have found one at the opposite block in Nick Guthrie.
After an up-and-down season, Guthrie had one of his best all-around games Tuesday night, finishing with 12 points, and showing good touch at the block and with a mid-range jumper. Dirks was the only other HRV scorer in double figures against Hermiston, finishing with 11 points.
After the game, Dirks made it clear he would like to end his HRV career on a much better note. He's tried to keep himself motivated this year and wants to play basketball in college; but he is not happy with the repeated losses.
"Some of the younger guys may be ready to move on to their spring sports, but I'm not," he said. "They have next year, and we (the seniors) don't."