Wednesday, February 23, 2011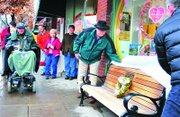 A special bench awaits the weary on Oak Street.
About 60 people gathered Monday for an emotional dedication of the bench, in memory of Serina Erspamer, the beloved owner of The Gift House, who died in August 2010 at age 62.
Her husband, Robert Erspamer, welcomed the group to the event, through a statement read by store manager Beth Runnels:
"It gives me immense satisfaction that you are joining us today as we dedicate this bench to the memory of Serina," wrote Robert.
He said the bench "will be dedicated in her memory as an entrepreneur of Hood River and as the successful owner of Gift House for 20 years."
City Manager Bob Francis and Mayor Arthur Babitz did the honors in the unveiling, pulling back the sheet to reveal the plaque, adorned with a heart-shaped bouquet of pink roses that matched the pink-themed array of photos and memorabilia of Serina in the window.
The plaque reads: "In Loving Memory of Serina Muratore Erspamer, Wife, Sister and Friend to All. Serina was a true ambassador for the city of Hood River and welcomed everyone with a smile."
Hood River City Council voted in December to approve the bench dedication. It was an easy decision to make, but working out the details of the actual event took a few weeks.
"But everything comes together on Valentine's Day," Francis said. "I just have to say what a great honor it is to do this today in honor of Serina Erspamer."
Erspamer, a native of Australia, came to Hood River in 1990 after marrying Robert in Melbourne, Australia, in February 1990. She ran the store until shortly before her death.
Her friend Sherry Bohn said, "She was always giving, always thoughtful, always generous."
"I don't know how she made any money," joked Bob Altman of Hood River, a longtime customer. "She kept me in hats. She'd look at me and say, 'You need a hat. Just take this one,' and give it to me. She was a truly generous person." Altman attended the event with his daughter, Justine, 4, who wore a red hat purchased at the store.
Robert Erspamer said that while the bench is a tribute to Serina, "We must never forget the many people who have made Hood River the thriving business community that it is today."
He cited Butch Ogawa, Jerry Cranmer, Mark Fraas, Tom Vouivou, Jerry Kramer "and countless others who have contributed to our town's success and they equally deserve a memorial."
But this bench was one Serina herself enjoyed sitting upon, and this was Serina's day.
"Anyone who knew and worked with her during her two decades in business were the lucky ones," Mayor Arthur Babitz said during the ceremony. "Like many of us, Serina followed her dreams to this marvelous place. Then she made it better.
"In her business, she celebrated all the wonderful things that Oregonians grow and produce. To everyone she met, she brought a warm and winning smile. We can all only learn from her generosity of spirit.
"And, to the end, there was that lovely Aussie accent - that link to her first home.
"On behalf of the city of Hood River, it's my privilege to join her loving husband, Robert, in dedicating this permanent memorial to Serina."
Bohn, who owns Sage's Café, one of Erspamer's regular places, said, "Serina cared about the community, about her shop, and she cared for Robert. She was always a good friend.
"I think this bench is a reminder to us to stop and think about Serina and what she meant to us," Bohn said.
She recalled Erspamer once coming in to tell her, "Sherry, I have to confess something."
Erspamer told her she had locked up the shop - with a customer in the separate, east side of the store.
"Apparently, the customer didn't know what to do other than call the police, and they had to call Serina to come down and let her out."
Bohn said, "A memory is a way of holding onto the things we love, the things we are, and the things we never want to lose.
"I will miss looking for Serina coming down the street to order her usual toasted tomato sandwich, and sitting down to just watch and enjoy life."