Wednesday, February 23, 2011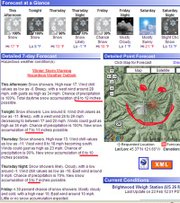 So, one of my all-time favorite "Simpsons Moments" has to be the situation when Homer is in earshot of some guy who yells out "Does anybody here know CPR?" And Homer starts singing (in the way only Homer can) "There's a Bad Moon Rising, I see – trouble on the way….."
Homer has of course confused CPR, (Cardio-Pulmonary Resuscitation), with CCR (Creedence Clearwater Revival) with at a most inopportune time.
A classic moment, indeed.
So last Friday, after our gig at Red Feather, I headed down to 6th St. for a pint. Now, if you read the entertainment page last Wednesday, there was a small item in the paper about a few bands playing for First Friday. I'm sure the headline was the usual "First Friday returns….blah blah blah.," But the real headline should have read: "One of these bands is not like the other."
You see, at the end of that story, it listed four bands that were scheduled to play around downtown:
Matthew and the Crooked Disciples
Cash Cow
Kate Meloy Trio
Gary Savage and the Darkside
It turns out that Matthew, the lead singer for the Disciples, was the lead singer in my old band, mile marker 6.
Cash Cow features Glen, who was our previous guitar player in the Kate Meloy Trio.
Kate, of the Kate Meloy Trio, used to play with Glen in a bluegrass band, Wild River.
Mike, a guitarist for the Disciples, played with the drummer for mile marker 6 in a rock band called Blue Trick.
So, where were we? Oh, right, 6th St. So I walk in, and the Disciples are in the middle of a song. And suddenly my ears perk up, and something deep in my subconscious says hey, "Does anybody here know CPR?" And I ask myself "Why am I thinking about the Simpsons all of a sudden?"
The chorus comes around again, and the place is tapping their foot to "It ain't me, It ain't me, I ain't no fortunate son . . . ."
Well, I can't be sure of this, but something deep inside tells me that there must have been some CCR on Gary Savage's list, too.
It would just be too weird if there wasn't.
Matthew and the Crooked Disciples will be at the Thirsty Woman, in Mosier, on Sunday, May 24.