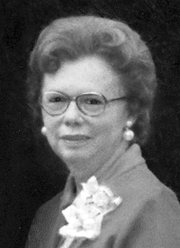 Ruby Hasty
Ruby Fern Hasty, 94, of Arapahoe, Neb., formerly of Overton, Neb., died Monday, December 20, 2010, at Good Samaritan Society-CA Mues, in Arapahoe, Neb.
Ruby was born Oct. 27, 1916, to Loran and Anna (Buhler) Fisher near Edison, Neb. She graduated from Edison High School.
On March 6, 1937, she married Min Hasty in Lexington, Neb. To this union were born two sons, Rodney and Richard. The family lived in the Lexington and Cozad area before moving to Overton in 1958 where they farmed for many years until Min's health failed.
Ruby was a member of the United Methodist Church and Women's Society and taught Sunday school for many years. She belonged to the Hi Ho Extension Club and Town & Country Garden Club, had Jr. Garden Club for two years and was a den mother for Cub Scouts. She enjoyed gardening and flowers.
Ruby was on the Community Center board for many years. In 1988 she started Congregate Meals at Donna's Café in Overton and was acting director until 2004 when her health failed.
Survivors include sons Rodney (Evie) Hasty, of Odell, Ore.; Richard (Cindy) Hasty, of Overton, Neb.; grandchildren Rod Hasty and Mike (Rochelle) Hasty, of Oregon, and Shanelle (Eric) Anderson and Cassidy Hasty, of Nebraska; one brother, Loran Jr. (Geri) Fisher, of Edison, Neb.; one sister, Norma "Aye" (Lyle) Steele, of Arapahoe, Ne.; and two great-grandchildren, Lilly Hasty and Makenna Anderson, of Oregon.
Ruby was preceded in death by her husband, Min, on Dec. 15, 1984; her parents; three brothers, Benjamin, Charles "Bus" and Max; and two sisters, Leona Mae "Tot" Luke and Ruth Farr; brothers-in-law Fred Farr and Virgil Luke and sisters-in-law Helen Fisher and Doris Fisher; and all Hasty in-laws.
Funeral services were held Thursday, Dec. 23, at the United Methodist Church in Overton, Neb., with Rev. Katherine Bullard officiating. Burial followed at the Arapahoe Cemetery in Arapahoe, Neb.
Memorials are suggested to the United Methodist Church in Overton, the Overton Senior Center or the Overton Fire Department.
Arrangements are under the direction of Reynolds-Love Funeral Home in Lexington, Neb. Online condolences may be made to www.reynoldslovefuneralhome.com.