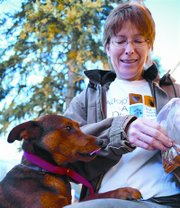 There's Ranger, Wagner, Buster and Roxy, Kona, Captain, Tucker and Dixey … and although they rhyme about the same, these are not Santa 2.0's new litter of sleigh-pulling reindeer.
The names are a drop in the bucket; a handful of the hundreds that have passed through Hood River County's Adopt-A-Dog program since it was established in 2007.
Located at the Hukari Animal Shelter in Odell, Adopt-A-Dog takes in, treats, rehabilitates and finds homes for an average of about 275 canines a year, most of which are brought to the shelter by the county's animal control officer.
For most dogs that end up at the shelter, their story is a sad one; but one that almost always comes to a happy end. Winston is a fine example. The elderly West Highland white terrier was brough to the shelter by Hood River County Animal Control recently, and he was in rough shape.
"Winston was a stinky matted mess," said Linda Vandenberg, longtime Adopt-A-Dog volunteer and the newly hired executive director. "He had an extreme ear infection and was clearly in pain and could not hear. Once he was released to Adopt-A-Dog, our dedicated volunteers cleaned him up and we got him veterinary care. He is on the road to recovery, but, unfortuately it appears he will remain deaf. Still, he was worth the care; he is probably one of the sweetest dogs we've encountered, and there's no doubt that we will be able to place him as a cherished new member of somebody's family."
Frankie is another sad story. The 12-year-old husky was found and brought into the shelter; but he clearly was not a stray for long.
"We don't understand why somebody doesn't come looking for a dog like this that has obviously been somebody's life-long pet," Vandenberg said.
Chances are his owner abandoned him, for one reason or another.
But through Adopt-A-Dog, Frankie is getting a second chance at finishing out his years in peace. He's currently living in a foster home until he's adopted.
"We've been very successful with finding homes for almost all the dogs that come through here," Vandenberg said. Last year, 92 Busters, Baxters and Buddies were given new homes through the program.
Then there are dogs like Zelda, who got lost on New Year's Day, was turned in to the shelter and by noon Monday was reunited with her relieved owner. Last year, 81 lost dogs had the same happy ending thanks to the shelter.
"There's nothing that makes us happier," Vandenberg said. "To have people out there caring for and worring about their lost dog; if everybody did that we'd be out of business, and that would be a great day for us."
•
Vandenberg said that although the shelter expected to see a spike in dogs over the last few years, numbers have remained fairly steady. The condition of those coming in, however, has changed.
"Many of the dogs coming in have been in worse shape than before," she said, noting that medical care expenses rose by about 45 percent from 2009 to over $11,000. "Maybe owners are unable to pay for medical care so they are dumping them. Many have obviously been someone's pet.
"We've very fortunate this year to have added Dr. Cynthia Mills to our volunteer roster. As a veterinarian, she has been extremely helpful in helping us assess the needs of the dogs and helping sort out the path of care."
With rising costs and a steady flow of animals to care for, the Hukari Animal Shelter and Adopt-A-Dog are always in need of volunteers; from walking a few dogs on a lunch break, helping with one of the program's annual fundraisers or volunteering as a foster home for a pup in need of some personal attention while a new home is found.
"We've noticed that being a foster home is a double-edged sword," Vandenberg said. "We've had several people volunteer, then fall in love with the dog and end up adopting it themselves. It's a great ending, but it means we're always in need of new homes.
To learn more about the program, its many volunteer opportunities or dogs currently needing homes, visit www.hoodriveradoptadog.org or call 541-354-1083.
•
Starting Jan.1, Adopt-A-Dog added a part-time paid position to its staff. After vounteering for several years, Vandenberg was chosen as the program's executive director, which will focus her efforts on providing program oversight and development, volunteer and public outreach and funding. She will work with the shelter coordinator, Alena Beaudette Lee, who is the only other paid staff (part-time) at the Odell facility.