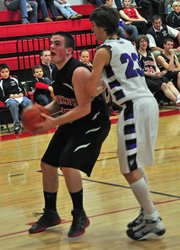 Watch out Big Sky League, the Horizon boys basketball team is off and running. After hammering Central Christian 87-22 Friday night, the Hawks brushed aside Nixyaawii 58-44 Saturday night. Against Central Christian, Horizon's starters sat for much of the second half, with every player but the injured Andrew Stenberg getting into the game and scoring. Sam Anthony led the way with 18 points, Tanner Pettit added 15 and Johannes Decker added 11. The Hawks are now 8-2 on the season, 2-0 in league play.
• The Horizon girls picked up their first league win by hanging on against Central Christian. The Hawks led 14-1 midway through the second quarter, but Central Christian cut the deficit to four points by halftime and kept the game close the rest of the way. The Hawks lost to Nixyaawii 54-26 Saturday night. M'Randa Aldrich had 19 points for the Hawks against Central Christian, with Katie Tolbert adding 12. The Horizon teams wore the road uniforms against Central Christian Friday night. Central Christian does not have a home gym this season, and the game, while being played in Hood River, was a home game for the Tigers of Redmond. Both Horizon teams were at Arlington Tuesday, play at Dufur Friday and then host Echo Saturday.
• Meanwhile, playing their league opener, the Hood River Valley boys basketball team gave the Hermiston Bulldogs a scare in Hermiston Friday night, but could not get the win. After falling behind by 15 points in the first quarter, the Eagles rallied only to have Hermiston hold on for the 47-40 win. Chris Dirks had 17 points to lead HRV. The Eagles were set to host Pendleton Tuesday night and then play The Dalles in the first game of a boys/girls doubleheader Friday night in Hood River.