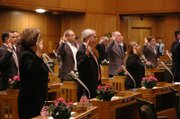 SALEM - In the Hood River legislators' first day in office, Rep. Mark Johnson was in on a ground-breaking landmark vote, and Sen. Chuck Thomsen was part of the opening ceremony pomp.
Republicans Thomsen and Johnson, elected Nov. 2 to the Oregon Legislature, were sworn in Monday along with fellow elected members and were on hand when Gov. John Kitzhaber took the oath of office.
Thomsen and fellow Sen. Lee Beyer (D-Springfield) escorted Speaker Peter Courtney (D-Salem) to the podium for his swearing in after a brief vote in which senators supported Courtney 21-9 in a challenge by Sen. Jason Atkinson. (R-Salem). Thomsen voted for Courtney.
Thomsen, Dist. 26, has been appointed to the Environment and Natural Resources and Ways and Means committees, and the Ways and Means subcommittee on Natural Resources.
Thomsen, a Pine Grove pear grower, said he wants to give a solid pro-agriculture voice to the Environmental and Natural Resources committee.
"I'd like to see the (committee) name changed to reflect agriculture. It now has a farmer serving on the committee," said Thomsen'. His wife, Kristi, joined him at the Senate opening ceremony.
Johnson, a private contractor, Dist. 52, has earned the distinction of being one of only two freshmen representatives appointed to lead a committee. He will serve as Co-Chair of the House Education Committee's Higher Education Subcommittee, which is charged with reviewing and developing policies relating to Oregon's community colleges and universities.
Johnson voted yes in the House's first major item of business: the resolution for co-governance by Democrats and Republicans. The resolution, which passed 57-3, dramatically changes House rules in light of the half-and-half power split in the House: now at 30 representatives from each party.
"This is our opportunity to work together," Rep. Dennis Richardson of Central Point said in introducing the resolution.
"These rules will give an equal voice, equal power, to all 60 members of the House."
Rep. Peter Buckley of Ashland told the House that in the face of "uncertainty, tension and fear," the rules will help ensure "decisions are made by the group."
Johnson said of the decision, "It's going to keep the spirit of unity. I hope we can work together.
"People of Oregon are going to watch us to see what we do,"' Johnson said.
Johnson said starting his House career is was an "exciting moment."
"It's very humbling to be one of Oregon's 60 members of the House. Each of us has a definite responsibility."
Johnson was accompanied by his wife, Melodi, and daughter, Natalie, 17.
"It's my honor to serve the citizens of House District 52," Rep. Johnson said. "I look forward to working with members of both sides of the aisle to help improve our economy and balance the state budget."
"A stronger system of higher education is critical to our economic recovery," said Johnson, a member of the Hood River School Board. "As Co-Chair of the Higher Education Subcommittee, I'll work with fellow members to expand access to our community colleges, universities and workforce development programs. We will focus on giving our institutions the tools and flexibility they need to prepare their students for 21st century jobs."
Johnson will also serve on the House Agriculture and Natural Resources Committee and the House Business and Labor Committee. He said both committees will focus on issues and industries that are important to House District 52.
"These committee assignments give me an opportunity to protect and support our local farms and small businesses," Rep. Johnson said. "I'm hopeful we will identify and eliminate barriers to job creation, and to make state government friendlier to the farmers and businesses that are the backbone of Oregon's economy."