Tuesday, January 18, 2011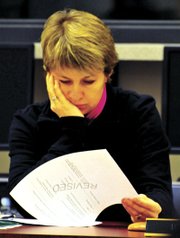 It's not a pretty picture.
The school district is facing a budget for 2011-12 that is expected to be $5.8 million lower than the one it is operating under this year.
"This is a difficult, difficult situation to be in," Supt. Charlie Beck told the school board at its Wednesday evening meeting. "We agree as a staff that we value all of the employees and all of the programs of the Hood River County School District. Unfortunately, we've been placed in a position where we're going to have to reduce."
The rapid decline of Oregon income tax revenues due to the current economic conditions and unemployment rate has dramatically hit all school district budgets throughout Oregon. State revenues are significantly down, federal stimulus dollars have dried up and Public Employee Retirement System (PERS) payouts have increased, forcing the school district to pare 9 percent from its $39 million budget.
Even exercising the full rate of the local option levy, bringing the shortfall down by approximately $1.7 million, and taking advantage of a state equalization grant for schools that have passed levies, another $600,000, the Hood River County School District will be left with a $3.5-million shortfall to deal with.
Beck presented to the board, the budget committee and others in attendance a "conversation list" of possible cuts to be made in order to stay within the expected budget.
Potential cuts include elementary music and PE jobs, the all-day kindergarten program (and its six teachers), at least six other classroom teachers and 10 classified positions, 5 percent of the HRVHS general budget and 10 percent of the high school athletic budget. (See details in sidebar.)
Beck stressed that these recommendations are the "best guess of the folks sitting around this table" as a way to balance the budget.
"We know that's not the only way to get there, so we're asking the community and staff to engage in a conversation as to how we do get there," he said. "The conversation cannot be whether or not we cut $3.5 million - that's a given - we have to figure out how to get there.
"The process we have in place is that myself and the district staff have put together a conversation list - a list that we look at as a possibility to get us to that number," he said. "But understand that this is a process - a process that will happen over the next month and a half, where we will be asking the public and staff and parents and other interested persons to provide feedback on what this district is going to look like next year."
The public will have opportunities to provide that feedback at three upcoming community forums, to be held from 6-8 p.m. at the following locations: Tuesday, Jan. 18, at the Hood River Middle School auditorium, 6-8 p.m.; Thursday, Jan. 20, at the Wy'east Middle School auditorium; and Monday, Jan. 24, at Cascade Locks School.
Beck urged those who plan to participate in the upcoming forums to remember that for every item that comes off the list of reductions, something else needs to be put on.
"We certainly want to hear your voice either way," Beck said. "But if you think about solutions as well as the problems it will help us get there.
Board chair Liz Whitmore and vice chair Jan Veldhuisen Virk also urge community members to get involved.
"We are looking to our community to help us begin the process of redefining who we are as a school district, our priorities and how we can provide the very best education for our kids while establishing and maintaining a sustainable budget," Whitmore said. "We've got serious and extremely difficult work ahead of us."
"One of the board goals for 2001-11 was to establish a balanced and sustainable budget," Veldhuisen Virk said. "We now know we're looking at a close to 10 percent shortfall, which is a very sobering situation. "I'm hopeful our community will be involved in this forum and bring suggestions.
"Feels like we're often in the situation of cutting what I would consider essential student services," said Veldhuisen Virk, who has seen many such lean years in her 12 years on the school board. "However, this year seems the most drastic."
"The things you see in front of you aren't very pretty," Beck said at the end of his presentation. "They hurt a lot. I cannot in good conscience support any of them. However, I have to bring this budget to a place where it's balanced.
"I challenge all of you to be a part of the process - let your voices be heard. Come to the community forums and tell us your priorities; write us letters; call us. One way or another, by April, we're going to have a budget that is 10 percent less than the budget we're using now.
"The other reality is, in September, the children will come and we have to be ready for them."