Tuesday, January 18, 2011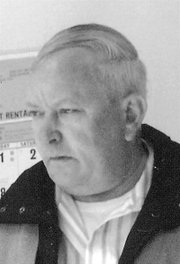 The Port of Hood River Board of Commissioners interviewed four candidates at a special meeting Thursday to fill an empty seat vacated by former commissioner Kathy Watson, who resigned in November for business reasons. After interviewing each of the four candidates who applied for the position, board members Hoby Streich, Fred Duckwall, Sherry Bohn and John Davies selected applicant Richard McBride to fill seat 3 of the board for the remainder of the term, which will expire June 30. The appointment will be short-lived, as the seat - and seats held by Bohn and Streich - will be up for election in May. McBride, who ran against Davies for position 2 in 2009, was chosen by commissioners Davies, Bohn and Streich, which was enough for a motion to select him as the temporary commissioner over fellow candidates Jon Benton, Brian Shortt and Erlene Veverka-Smith. The board then voted unanimously to select McBride, who will be sworn into the position at regular session later this month. "I really didn't expect this to be such a difficult decision," Davies said during an open discussion from the council. Commissioner Duckwall added, "All the candidates have the background and experience to serve in the public sector. I could serve happily with three of the four candidates." Duckwall said the fourth candidate, Veverka-Smith, was at a disadvantage from his perspective because she indicated she would not run for the position in the next election.
•
Port commissioners are elected by voters of the Port's district for four-year terms. Seat three was vacated in the fall by Watson, who was originally appointed by the board in 2004, when her successor resigned. She was re-elected to the position the following year, but did not serve out her term. The situation is not uncommon, as both Bohn and Streich, current board president, were originally appointed to their positions on the board. "I've been in that seat before," Bohn said to the applicants before announcing her vote. "But I think there were 16 applicants when I applied. I think the fighting - well, most of the fighting - is over. "All of the candidates said they have seen great progress from the port in the last five or so years; and that is very reassuring." As stated on its website, the chief responsibility of the commission is to make policy for the Port of Hood River. Policy is then implemented by staff under the direction of the Executive Director, who is currently Michael McElwee. Commissioners are paid a monthly stipend of about $100 for their service.