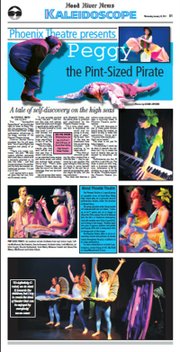 The "SpongeBob SquarePants" set should feel right at home in Bowe Theater this weekend as "Peggy the Pint-Sized Pirate" brings underwater adventures to the stage, courtesy of the Phoenix Theatre troupe.
Director Rachel Harry promises fun for all ages, with "lots of swordfights, sea monsters and plenty of pirates!
"There are crazy costumes," she said. "We have oysters, jellyfish, mermaids and a mer-man; a shark with a barnacle attached to its side, that talks - and then the sea monsters: the mother and the baby two-headed, six-limbed sea monster. It's just a lot of fun."
It all started with a musical piece that her son, Duncan Krummel, wrote.
"It just sounded nautical to me," she said. "I had chosen this play and remembered that piece, and thought it would work really well for it. The kids listened to it and they loved it, and that became our opening theme. And we have this huge swordfight to sort of set the tone for this play.
"This is a really simple play that was online and that was free. It wasn't real strong so we reworked some scenes and wrote music and added the stylized fight scenes," Harry said. "That's what Phoenix Theatre does; we take the core of an idea and elaborate: How can we build on that?"
Her son wrote other music and lyrics for the show, along with Elizabeth Gobbo, and the whole show is produced and performed by the Phoenix Theater troupe.
"It's a story about someone who is considered too small and too young to do anything of value," Harry said, "sort of the way we sometimes view lids, as just being helpless and needing to be taken care of.
"This little pirate ends up saving the other pirates from a horrible fate - they're captured by a sea monster. She goes through a little journey of trying to prove herself; and then in the end the pirates all recognize that, yeah, she might be little, but she can contribute."
The show also features a reduce-reuse-recycle message, a recurring theme in Phoenix Theatre performances.
"If the kids have gone to any of these grade schools, they'll know the number, so they'll be able to make that connection," Harry said. "It's just a little inside joke - that's not so inside."
The show is not just for kids, however.
"It's definitely G-rated; we do slant it towards the children; but I try to create the kind of theater that can be enjoyed by everybody," she said.
Performances are Jan. 22 and 23 at 1 and 3:30 p.m. The show is about an hour long, with a 15-minute intermission. Admission is $3 for children up to age 12 and $5 for adults. Proceeds support the Phoenix Theater program.