Wednesday, January 26, 2011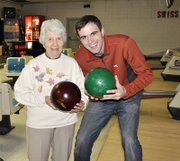 On paper it was a mismatch. One athletic late-20s male against a 90-year-old woman.
Ten frames of bowling. Winner takes all the glory.
The mismatch proved to be true in reality, as well. The 90-year-old won handily.
Esther Yarnell is the Queen Mother of Hood River bowling and at 90 has beaten many a young whippersnapper. After hearing plenty about her in Jeff Olson's weekly bowling column, I decided I had to take a crack at her and discover Esther's secret to success.
Let's get this out of the way first: I may be the world's worst bowler.
Until recently the American Bowling Association had even officially awarded me the distinction. That is until last month when 6-year-old Tommy Wilkerson of St. Albans, Vt., hosted his birthday party at the city's bowling alley and they forgot to give him the kiddy bumpers. Poor Tommy will never be able to escape that score of straight zeros.
I actually made all that up and apologize to Tommy and all the residents of St. Albans. But seriously, I am a lousy bowler.
Knowing that it takes a good day for me to get 100, and that Esther averages a 150 game, I strode into the alley Wednesday afternoon, braced for my shellacking.
First I needed proof of age of Esther, considering she doesn't look a day over 60. However, the state of Oregon says she's 90 (and will turn 91 in March) so that is good enough for me.
Esther has been bowling since 1956, or 27 years longer than I have been on this earth. She was previously a bowling instructor in Medford, and recently came in fourth in a senior tournament in Vancouver against hundreds of competitors. In other words, I just wanted to keep the final score respectable.
I knew I was in trouble when she asked me if I was a spot bowler or a pin bowler when I asked for tips before our match.
"I have no idea," I answered.
"Well then, I can't help you," she laughed.
That did not fill me with confidence.
Operator Pat Olson set us up for a PBA-style match, where we both bowled two consecutive frames and alternated lanes. This only served to confuse me at one point, with one of my few good frames going to Esther's score, but thankfully the scorekeepers corrected that.
Esther picked up nine pins in the first frame, followed by eight more in the second.
I got off to a rough start with five pins, gutter ball, gutter ball, five pins.
Then we both got rolling. Esther picked up a spare in the third frame, a strike in the fourth, and nine pins in the fifth and sixth.
To my credit I hung tough against Esther's onslaught.
I got a spare in the third frame, nine in the fourth a spare in the fifth and a strike (Strike!??!) in the sixth.
The crowd cheered me on after each successful roll, but I began to get suspicious.
"Are you people actually on my side or are you just switching horses in the middle of the stream?" I queried.
The crowd was mostly bowlers from Esther's Colts and Fillies league, which was scheduled after our match.
Much like the Romans watching a gladiator fight a massive lion, they answered they just wanted to see Esther get some decent competition in her "warm-up" to her league matches.
After my strike in the sixth frame, I was brimming with confidence, down by two pins and with the feeling that just maybe I could upset the champ.
That feeling promptly vanished on the next frame. I picked up only four pins on my first roll and then a gutter ball.
Esther, sensing weakness, slammed the door with a series of spares.
I at least made it respectable in my last frame, bowling a spare and then a nine on my bonus roll, to pull even before Esther's last roll.
All I needed to salvage a tie was for the master to roll two gutter balls.
Of course that wasn't going to happen, but at least for a moment I stood shoulder-to-shoulder with greatness.
Esther rolled another spare and that was that.
I graciously conceded defeat and Esther prepared for some real competition in her league matches.
I brought my A game and Esther, rolling eight pins under her average, still had more than enough to beat me 142-118.
There may still be hope for me yet, though. I asked Jeff and Pat how I fared after the match.
They agreed that I did fairly well in my noble defeat; with Jeff even saying that I looked like I could be a good bowler "with natural athletic ability."
That was all I needed to hear to super-glue some of shattered ego back together.
Still, I learned a very important lesson: Always respect your elders, because in their 90 years they have probably mastered some sport at which they can completely own you.