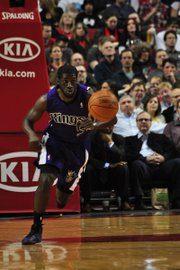 The first time I sat down to interview Pooh Jeter we were in our dorm at the University of Portland. He was a sophomore guard on the basketball team, I was a second-year sports reporter with the student paper, and Pooh already had an avid following for his energetic style of play and his infectious smile.
When I caught up with him this week, our lives had changed, but as I could tell just seconds into our conversation just off the court at the Rose Garden, Pooh hadn't changed much.
The energy is still there and so is the smile.
After four years bouncing around the NBA D-League, Europe, the Middle East and NBA summer camps, Jeter got on with the Sacramento Kings, and is seeing significant minutes as the oldest (and likely shortest) rookie in the NBA.
"I'm just happy to be a part of it," he said of the spectacle that accompanies every game. "I still pinch myself when I wake up to see if I'm still dreaming."
On a day when Horizon Christian School and CS Lewis Academy, two small schools full of underdog players, battled it out at the Rose Garden a few hours before the Blazers took on the Kings, his message had particular relevance.
"One thing I want to tell everybody is to never give up on your dream, never," he said. "I was in Europe, I was in the D-League, but I kept on working hard. Before practice and after practice I was in the gym working out and just preparing for moments ...Never giving up and enjoying the moment where you are. That's the key."
The 27-year-old has been averaging 15 minutes a game for the Kings and has made a couple of appearances on NBA.com's list of top rookies so far this year. Not too bad for a guy who just a few years ago got more attention from his nickname than his NBA prospects.
For the record, his full name is Eugene Jeter III, but "Pooh" stuck when shortly after he was born his grandmother said he looked like "a little black Winnie the Pooh."
Jeter is a rarity in the NBA for a multitude of reasons. He stayed through four years of college at a school not known for churning out NBA prospects; he spent four years bouncing around the D-League, Spain, the Ukraine and Israel; he's generously listed at 5-11 and did I mention he is a 27-year-old rookie?
As he hopped back and forth between the States and Ukraine, the States and Spain and then the States and Israel, Jeter never lost faith that his perseverance was going to make his dream happen.
"I always believed I would be in the NBA," Jeter said. "I'm glad God gave me the endurance and the energy to get it done. A lot of work came along with that and I'm happy I had a great family and friends to keep me going."
It finally paid off when the Kings, the team which gave him his first summer league audition four years ago, signed him to a contract following another summer league stint, this time with the Cleveland Cavaliers.
"When my agent told me Sacramento wanted to give me a contract, I was crying, both my family and I," he said.
He's not taking the opportunity lightly.
"I can't get comfortable; I've got to keep working hard. I cannot get comfortable and relax," he said. "I've got to keep working to better myself and continue to stay ready for what happens tomorrow. But for today, I am so blessed."
Monday's game against the Blazers was the first time Jeter has played in the Rose Garden, and the first chance he's been back in his adopted hometown since fulfilling his NBA dreams. He spent the morning having breakfast with his former college coach, Michael Holton, who is now a TV/radio analyst for the Blazers, and then spent much of the rest of the day visiting the University of Portland campus and catching up with his former professors.
Many NBA players are on a college campus barely long enough to show up for a class. Pooh spent several minutes rattling off his favorite classes and professors.
His favorite part about playing in Sacramento is not the fact that he's finally in the NBA. It's that he is an hour plane flight from his hometown near LA, finally allowing his friends and family to see him play professionally.
When asked if given the chance to go back in time and trade in his life for that of a one-year-and-done college player with all the God-given talent in the world blessed with a huge contract, he said no way; he's made too many friends and had too many great life experiences over the last four years.
"It's all about just enjoying the moment where you are," he said.
During Monday's game, all the Kings players got booed throughout the game. Except one.
When he checked into the game for the first time, he got a round of applause. Signs in the stands declared fans' mixed allegiances between the home team and the returning small college star with one saying "Welcome back to Portland Pooh" with the "o" in Portland the Trail Blazers' logo and the "P" a Portland Pilots logo.
During the game Jeter alternated at times between just sitting in his seat grinning and leaping out of it to cheer on his teammates when he was on the bench and harassing Portland's Patty Mills and Andre Miller when he was on the court.
He was closer in height to the ball boys on the sideline than he was to 7-footer Joel Pryzbilla, who he tangled with to try and force a jump ball, but as he stepped onto the court, he was living proof of the adage that if you dream it you can do it.
"Don't give up. Whatever happens and whatever cards your dealt, stick with it. Keep working hard, keep God first and believe in yourself," he said. "A lot of people told me I couldn't do it because of my height or the school I went to but I got a chance to prove them wrong."
He would like to keep playing for as long as he can, hopefully another 10 years. Maybe all of that won't come in the NBA, but he doesn't care. He's having too much fun in the here and the now.
"If it's my time it's my time," he said. "But right now I worry about today."
When both teams came on to the floor for their pre-game warmups, Pooh got to lead the Kings out of the tunnel.
When he emerged from the darkness and into the bright lights of the arena, a scattering of "POOOOH!" chants echoed from the seats.
The small, well-traveled, old-for-a-rookie player looked up into the stands and started grinning from ear to ear, living in the moment and taking it all in.
Then he went back to doing what got him there - sprinting through layups, launching jumpers, getting down on defense - ready for his next big shot.