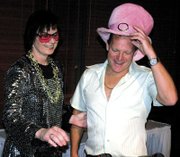 Greg Walden has given plenty of speeches in his long political career, but on Saturday in his hometown of Hood River he spoke two words he's never uttered before (at least in public):
"Let's disco!"
Walden, the Republican U.S. Congressman, was guest speaker at the Hood River Chamber of Commerce annual dinner, where 1970s dance and fashion filled the hall with bright lights, loud outfits and wild hairstyles.
"My mother always warned me there could be flashbacks from that era, and believe me tonight I think I have seen some flashbacks," Walden said, looking out at the garish polyester suits and gowns, scarves, and sunglasses.
"What's most surprising about all this is that in this day of Youtube, you folks are actually wearing these things," said Walden, who was on hand with his wife, Mylene.
Walden may be a powerful Congressman, but the real big wigs were on Chamber members heads.
There were some surprising get-ups, from Cheryl White as Charo to Mark Brown as Village People construction worker to Chuck Hinman in full earth tone polyester splendor and Lisa Marie Nelson in spot-on replication of a famous 1970s TV character (photos at right).
Everywhere you turned there were shiny gowns, tan leisure suits, yellow pant suits, smiley face earrings, medallions nestled in chest hair, wide lapels, "afro" wigs, and billowy sleeves.
But there was no surprise, except to the recipient, when the Chamber Member of the Year was announced: Andrew McElderry, owner of Hood River Cinema and Skylight Theater and Pub.
An emotional Kerry Cobb, Chamber executive director, gave the award to McElderry.
"He saw problems and he solved problems," Cobb said of McElderry, who worked along with Mark Brown, 2010 Chamber president, when the Chamber went through extensive reorganization mid-year, a process dominated by the departure of former executive Mary Closson.
McElderry "saw problems and solved problems," Cobb said. "He worked many long hours, mending relationships while attending to the demands of running his own business. Yet if we had a list of 10 things to do, he would take five of them."
"He believed in us, and he believed in the Chamber. He made us laugh, and when we were tempted to give up, he helped us keep going."
On Saturday, Brown told McElderry, "Thank you, for stepping up and helping."
McElderry, wearing an oversized pink cloth top hat, said, "I am dumbfounded," at the honor.
"I really didn't expect this," he said, offering thanks to his wife, Melissa, for her support while he worked to buoy the Chamber.
"I believe in the Chamber. I believe in this town. I love this town," Andrew said.
His award was not the only one of the night. The Chamber gave the Business of the Year honor to Best Western Hood River Inn, and Cobb announced a new honor, the Community Service Award, "for someone who went above and beyond the call of duty."
Don Benton is the first recipient. Brown described Benton as "a man who serves on so many boards," including Ambassadors and Police Citizen Advisory Board, and is always willing to help," and was involved in many things from directing traffic at the Christmas parade to mentoring students at the high school.
The business of the evening concluded with the auctioning of a flag to fly over the U.S. Capitol, led by Walden.
Steve Benton and David Ryan bid $1,700 each for two flags.