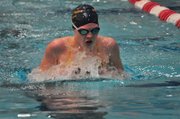 The Hood River Valley High School girls swim team is on a roll as it heads toward its district meet.
The Eagles took first place for the second straight Invitational meet and continued to see their times drop after a tough month of training.
"I was really impressed with the way the kids swam on Saturday," HRV coach Shea MacNab said.
The Eagles continued to shed time off their swims, with Roslyn Patrick and Kayla Schilling leading the way. Patrick dropped 25.40 seconds off her 500 free time and Schilling trimmed 6.59 seconds from her 100 breast time.
The Eagles got top finishes from their 200 medley relay and 200 freestyle relay teams and first place finishes individually from Danielle Miller, Taylor Tyynismaa and Alyssa Walker.
"We are heading into our last week of tough workouts and then we will start our two week taper for districts," MacNab said. "I have been really encouraged with how our swimmers have competed over the past two weeks. We have had a really hard month of training and even though they are sore and tired they are still racing at a high level."
The Eagle boys finished ninth out of ten schools and got several first place swims from Connor Webb and a fourth place finish in the 500 free by Addison Redmond.
HRV highlights:
Girls 200 medley relay
2:03.75 Miller, Walker, Galbez, Tyynismaa 1
2:17.70 Buttacio, Engbersen, Schilling, Grace 5
Boys 200 medley relay
2:06.64 Mears, Webb, Redmond, Ybarra 8
Girs 200 Free
2:07.54 Alyssa Walker 2
2:37.93 Lilly Paul 13
2:38.66 Lily Buttacio 14
Girls 200 IM
2:28.06 Danielle Miller 1
2:45.07 Rebekah Galvez 6
Boys 200 IM
2:01.71 Connor Webb 1
Girls 50 Free
26.45 Taylor Tyynismaa 1
29.79 Tori Grace 13
29.90 Rebekah Galvez 14
Boys 50 Free
30.26 Philip Winkle 26
31.85 Maxx Kozec 30
Girls 100 Fly
1:03.45 Alyssa Walker 1
Girls 100 Free
58.15 Taylor Tyynismaa 1
1:04.34 Kayla Schilling 9
Boys 100 Free
1:01.29 Addison Redmond 16
Girls 500 Free
6:57.43 Roslyn Patrick 10
7:11.82 Lilly Paul 13
Boys 500 Free
5:57.24 Addison Redmond 4
Girls 200 free relay
1:51.43 Walker, Miller, Schilling, Tyynismaa 1
2:13.74 Buttacio, Danko, Paul, Patrick 8
Girls 100 Back
1:06.48 Danielle Milller 2
1:21.54 Lilly Buttacio 12
Girls 100 Breast
1:22.81 Kayla Schilling 2
1:23.64 Anika Engbersen 3
1:30.77 Ali Danko 9
Boys 100 breast
1:05.28 Connor Webb 1
1:29.81 Mazz Kozec 15
Girls 400 free relay
4:39.74 Grace, Engbersen, Patrick, Galvez 6
5:10.60 Danko, Iskra, Paul, Raulston 10